The 10 Best Documentaries on Netflix Right Now
Documentary is an art that see us, hears us, and connects us all together. It connects us back to the basic truths of our real-life with just presenting the moments of the real world. And it also provides essential perspectives on our strange world, inspiring us to explore the past, the present and the future.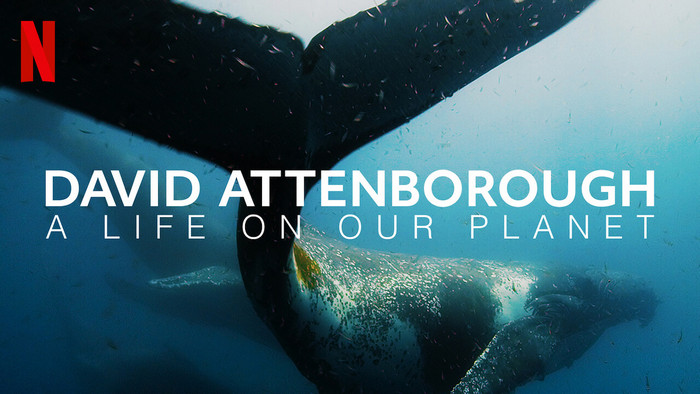 As one of the most popular streaming service platforms, Netflix has also collected a bountiful of influential and impressive documentaries that cover a various range of subjects, from environmental issues to celebrity biographies, social movement, human rights, the LGBTQ community and so much more. If you're looking for documentaries on Netflix that make you stop and challenge your perspective of the world, the following 10 documentary film recommendations shall meet your demands. If this isn't enough for you, we have also picked out a list of the best Netflix movies and tv shows worth watching.
Read More: 10 Best New Movies on Netflix in 2021
1. David Attenborough: A Life on Our Planet
Director: Alastair Fothergill, Jonathan Hughes, Keith Scholey
Introduction: One man has seen more of the natural world than any other. This unique feature documentary is his witness statement. In his 93 years, David Attenborough has visited every continent on the globe, exploring the wild places of our planet and documenting the living world in all its variety and wonder. Now, for the first time he reflects upon both the defining moments of his lifetime as a naturalist and the devastating changes he has seen. Honest, revealing and urgent, DAVID ATTENBOROUGH: A LIFE ON OUR PLANET is a powerful first-hand account of humanity's impact on nature and a message of hope for future generations. Created by award-winning natural history filmmakers Silverback Films and global conservation organization WWF, the film is directed by Alastair Fothergill, Jonnie Hughes and Keith Scholey and Executive Produced by Colin Butfield. Celebrated British naturalist Sir David Attenborough has a broadcasting career spanning over eight decades. He has visited every continent on the globe, exploring the wild places of our planet and bringing the wonders of the living world to audiences worldwide through groundbreaking natural history series. His work includes: Life on Earth, Planet Earth and more recently the Netflix original documentary series Our Planet.
Watch David Attenborough: A Life on Our Planet on Netflix
2. My Octopus Teacher
Director: James Reed, Pippa Ehrlich
Introduction: If you're looking for something soothing, uplifting, and oddly beautiful, you should check out Pippa Ehrlich and James Reed's lovely documentary My Octopus Teacher. The movie follows filmmaker Craig Foster who goes snorkelling off the coast of South Africa and encounters an octopus. He resolves to interact with the octopus every day and learn as much as he can about the creature. Through their stunning underwater photography, we see a magnificent and startling intelligent animal working its way to survive in a dangerous kelp forest. The film never anthropomorphizes or cheapens the complexity of this underwater world, while also never losing sight of the majesty it presents. Even if you're not much for nature documentaries, you'll likely be enchanted by My Octopus Teacher. – Matt Goldberg
Watch My Octopus Teacher on Netflix
3. American Factory
Director: Julia Reichert, Steven Bognar
Introduction: This documentary takes a look at what happened when General Motors closed a plant in Dayton, Ohio in December 2008, putting thousands of Americans out of work at the same time the U.S. government began a multibillion-dollar bailout of the auto industry.
In 2016, Chinese billionaire Cao Dewang opened a division of his global auto-glass manufacturing company Fuyao Glass America in the plant, investing millions in the business and hiring over 1,000 local workers. Although at first Chinese had to get used to working with Americans, who seemed to them slow to learn and less productive than the Chinese workers they were used to back home, they soon bonded and found a new respect for them. The Americans, for their part, learned to enjoy the Chinese way, which includes encouraging
Watch American Factory on Netflix
4. The Social Dilemma
Director: Jeff Orlowski
Introduction: Set in the dark underbelly of Silicon Valley, The Social Dilemma fuses investigative documentary with enlightening narrative drama. Expert testimony from tech whistle-blowers exposes our disturbing predicament: the services Big Tech provides-search engines, networks, instant information, etc.-are merely the candy that lures us to bite. Once we're hooked and coming back for more, the real commodity they sell is their prowess to influence and manipulate us.
Watch The Social Dilemma on Netflix
5. Knock Down The House
Director: Rachel Lears
Introduction: Four exceptional women mount grassroots campaigns against powerful incumbents in Knock Down the House, an inspiring look at the 2018 midterm elections that tipped the balance of power. When tragedy struck her family in the middle of the financial crisis, Bronx-born Alexandria Ocasio-Cortez had to work double shifts as a bartender to save her home from foreclosure. After losing a loved one to a preventable medical condition, Amy Vilela didn't know what to do with the anger she felt about America's broken health care system. Cori Bush, a registered nurse and pastor, was drawn to the streets when the police shooting of an unarmed black man brought protests and tanks into her neighborhood. A coal miner's daughter, Paula Jean Swearengin was fed up with watching her friends and family suffer from the environmental effects of the coal industry.
Watch Knock Down The House on Netflix
6. Seaspiracy
Director: Kip Andersen
Introduction: Seaspiracy examines the global fishing industry, challenging notions of sustainable fishing and showing how human actions cause widespread environmental destruction. Filmmaker Ali Tabrizi has always loved the ocean, but he can't believe how big a negative impact people have had on the seas. He tries to find out what the solution is to save the oceans from overfishing, plastic, and being used like a garbage dump. He discovers that the criminal groups behind drug trafficking and human trafficking are the same ones that are behind overfishing.
Watch Seaspiracy on Netflix
7. Becoming
Director: Nadia Hallgren
Introduction: An intimate documentary about former first lady Michelle Obama, which takes a look at her childhood growing up on the South Side of Chicago, through her high school years when she was told she was aiming too high with her ambitions, to her work with young girls and women. She witnesses as she inspires them to be all that they can be and to not let anyone tell them any different.
Watch Becoming on Netflix
8. 13th
Director: Ava DuVernay
Cast:
Introduction: The Thirteenth Amendment to the U.S. Constitution makes it unconstitutional for someone to be held as a slave. However, criminals are an exception. In this film, they call that a loophole and say it was immediately exploited in an effort to get innocent black men off the streets. One man says, "We now have more African Americans under criminal supervision than all the slaves in the 1850s."
This film, which gives an in-depth look at several innocent black men who were picked up by police for no reason and put behind bars, claims prisons in the United States are required to be kept filled, even if nobody was committing a crime, so the government can make a profit. One man says, "It's so difficult to talk about mass incarceration because it has become heavily monetized."
Watch 13th on Netflix
9. A Secret Love
Director: Chris Bolan
Introduction: This documentary takes a look at same-sex couple Terry Donahue and Pat Henschel, who have been together 65 years at the time of filming. They met in 1947, when Donahue was a professional baseball player in the All-American Girls Professional Baseball League (the real-life inspiration for the 1992 film A League of Their Own.) As they age, they decide to leave the house where they'd lived for years and enter the nearby Delnor Glen Assisted Living facility, where they were married in 2015, on Donahue's 90th birthday.
However, although they'd lived in Chicago since the 1950s, as Donahue's rapidly progressing Parkinson's disease became a concern, Donahue's family encouraged them to come live in Canada, where they could provide more care for them.
Watch A Secret Love on Netflix
10. Crip Camp
Director: James Lebrecht, Nicole Newnham
Introduction: Down the road from Woodstock, a revolution blossomed in a ramshackle summer camp for teenagers with disabilities, transforming their lives and igniting a landmark movement.
Watch Crip Camp on Netflix
Final Words
If you're in the mood for some real-life, heart-warming, addictive stories, the above documentaries will give you an immersive experience in the course of binge-watch. To help you find out more fantastic stories, SameMovie editors have put together a comprehensive guide of the new shows or movies and a mini-introduction to help you know which is worth your time.
What we're also bringing for Netflix users is basically a powerful tool, SameMovie Netflix Video Downloader, to help you save your favourite movies or shows in MP4 or MKV format on your Windows or Mac computer. Now, you can take your favorite shows or movies with you anywhere since the downloaded videos with good compatibility can be transferred to any storage device like your mobile phone, smart television, SD card, USB flash drive and so on. If you put your trust in SameMovie, it will never let you down. Let's just click the "Download Now" button below and really experience to rest assured, intimate, and save worry new tool and services.
Note: SameMovie strictly observes the legal regulations and never circumvents DRM copy protection.
Video Tutorial: How to Download Netflix Video as MP4 Files?
Tips You May Want to Know