10 Best Movies on Amazon Prime Video Right Now
Nowadays, many streaming media service providers are scrambling to launch excellent original dramas or purchase the broadcasting rights of classic movies and TV shows in order to seize the market. The powerful Prime Video is no exception. With the excellent and rich collection of movies, whether it is a popular superhero movie or a classic independent movie, you can find what you want on Prime Video.
But the complex and rich movie library may also bring you trouble- don't know which one you should choose. To help you out, we summarize the 10 best Prime movies that you can't miss. You can quickly capture the key information of the movie with the director, starring, and a brief introduction, which will help you decide whether it is worth watching.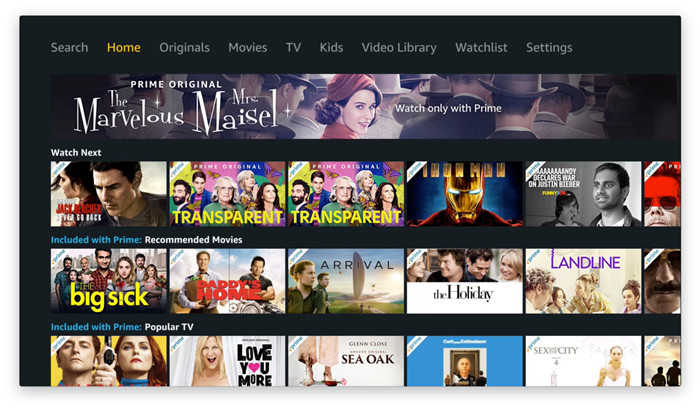 1. Manchester by the Sea
Director: Jordan Peele
Cast: Casey Affleck, Michelle Williams, Kyle Chandler, and Lucas Hedges
Introduction: Lee Chandler is a repairman. One day, he is told that his brother Joe, a fisherman who lives in Manchester-by-the-Sea, Massachusetts, has suffered a cardiac arrest. Lee drives to Manchester, but Joe dies before Lee can get to the hospital. According to Joey's will, Lee will become the guardian of Joey's son Patrick. Lee intends to bring Patrick back to Boston, but it is clear that Patrick is not willing to leave his hometown and friends, but Lee also does not want to stay in this sad place for a long time. It turned out that there was a desperate memory of Lee buried in Manchester. His fault caused the three children to be buried in flames, and his wife Randy left him. Returning to his hometown this time, Lee once again met Randy, who had remarried and was about to become a mother. At the same time, Patric's long-missing mother Alice also contacted Patrick, hoping that he could become a member of her new family.
2. Get Out
Director: Kenneth Lonergan
Cast: Daniel Kaluuya, Allison Williams, Bradley Whitford, Caleb Landry Jones, Stephen Root, and Catherine Keener
Introduction: The black guy Chris and the white girl Ruth fall in love. Although the relationship between the two is very sweet, Chris has always had a grudge for his skin color. One day, the two went to Ruth's house as a guest. There, Chris met Ruth's parents Dean and Missy. Except for Ruth's younger brother, Jeremy showed a little bit of hostility towards Chris. Everything is perfect. The next day, Chris attended a party organized by Ruth's family. At the party, Chris met his old friend Andrew. What made Chris puzzled was that Andrew's dress, conversation, and behavior were completely different from before. All sorts of weird clues made Chris gradually realize that he seemed to be caught in a conspiracy.
3. Joker (2019)
Director: Todd Phillips
Cast: Joaquin Phoenix
Introduction: In the damp and hopeless city of Gotham, the humble Arthur Frank relies on playing the clown to make a living. His mother is suffering from mental illness, and Arthur deeply remembers his mother's teaching that no matter what setbacks he suffers, he must be positive, which also puts him under great pressure. He dreams of becoming a talk show actor, but life always disappoints him again and again. Not only that, he lost his job accidentally, and occasionally caught a glimpse of his mother's secret, which ignited his ardent desire for the father who had never met with him. However, fate never makes you wish. In the empty subway, the sad clown slaughtered wildly amidst crazy laughter.
4. A Quiet Place
Director: John Krasinski
Cast: Emily Blunt, John Krasinski
Introduction: A large-scale invasion took place, and the earth was almost wiped out. The surviving family lived a quiet and silent life. As long as someone made a sound, he would be taken away by the monster. The family must keep quiet at all times and must figure out which sounds can be made and which can't. The father paved a sandy road to silence the sound. The whole family must use sign language and a lighting system for communication to avoid terrible things. Because the monsters that hunt them are everywhere. This is a real challenge. They must overcome the difficulty of life and death. Keeping quiet is the only law of survival. They can't hear you, they can't hunt you down.
5. Wonder Woman 1984
Director: Patty Jenkins
Cast: Gal Gadot, Chris Pine, Kristen Wiig, Pedro Pascal, Robin Wright, Connie Nielsen
Introduction: In the 1980s, Wonder Woman Diana lived a life like ordinary people at the Natural History Museum in Washington, but after preventing a seemingly ordinary robbery, everything around her changed. Under the temptation of powerful divine power, two new rivals quietly appeared-the top predator Leopard Girl, and Max Lord, who controls the power that can change the world, a terrifying battle is inevitable. On the other side, the old love Steve suddenly resurrected and fell in love again with Diana. However, despite being touched by the romance, Steve's return is also full of doubts. The new era begins. In the face of two powerful evil villains and the mysterious return of Steve, how can Wonder Woman save the world again?
6. Birds Of Prey And the Fantabulous Emancipation of One Harley Quinn
Director: Cathy Yan
Cast: Margot Robbie, Mary Elizabeth Winstead, Jurnee Smollett-Bell, Rosie Perez, Chris Messina, Ella Jay Basco, Ali Wong, and Ewan McGregor
Introduction: Have you heard a story about a policeman, a singer, a lunatic, and a mafia princess? "Raptor team and Harley Quinn" is an extraordinary enthusiasm and wonderful legend. Gotham City's most brutal and arrogant villain, Roman Sionis, and his fanatical subordinate Victor Zsasz turned the city upside down in search of a young girl, Cassandra. Harley Quinn, The Huntress, Black Canary, and Renee Montoya meet unexpectedly, and the seemingly violent group of four has to unite and fight together to be able to defeat Roman.
7. La La Land
Director: CDamien Chazelle
Cast: Ryan Gosling, Emma Stone
Introduction: Mia Dolan aspires to be an actor, but until now she is still just an ordinary barista in the set coffee shop. Although she keeps participating in auditions, Mia failed always. One day, at a party, Mia met a man named Sebastian. At first, there was a small conflict between the two, but soon, Mia was caught by Sebastian's shining talent and his attraction by the pure pursuit of jazz, the two guys fell in love. Encouraged by Sebastian, Mia quit her job in the cafe and wrote the script intently. At the same time, Sebastian joined a popular jazz band in order to obtain a stable income. He started to play modern jazz that he didn't like, but it to be an instant hit. Over time, the distance between them has become increasingly distant, between the ideal and feelings, they must make a choice.
8. Batman v Superman: Dawn of Justice
Director: Zack Snyder
Cast: Ben Affleck, Henry Cavill, Amy Adams, Jesse Eisenberg, Diane Lane, Laurence Fishburne, Jeremy Irons, Holly Hunter, and Gal Gadot
Introduction: The story took place 18 months after the Battle of the Metropolis, during which many buildings and citizens were brutally affected. Because Superman helped humans solve many problems, he was worshipped as a god, but Superman was also arrested and interrogated because of the damage to the city caused by the battle with Zord. Batman Wayne, once an urban legend, reappeared. He seems came to punish Superman. The young and treacherous tycoon Lex Luthor sowed discord between the two, and the mysterious Diana also intervened for her own purposes.
9. Jaws
Director: Steven Spielberg
Cast: Roy Scheider, Robert Shaw, Richard Dreyfuss, Lorraine Gary, Murray Hamilton
Introduction: Amity Island is a tourist resort, a large number of tourists come here to swim. However, the appearance of the white shark has changed everything. The accident started with a couple who went swimming in the sea. The girl, unfortunately, became the first victim. The fragmented body was horrible. Local officials were unwilling to close the site for investigation. They were afraid of affecting tourism revenue, so they invited biologist Brown to go there. Brown concluded that this was an unusually huge white shark. His reminder did not cause the authorities to pay enough attention, and then someone died unexpectedly, and the situation became more serious. A local skilled fisherman, a policeman, and Brown, a total of three people, are determined to hunt the great white sharks. A fierce fight has begun. Who is the final winner?
10. Star Trek (film)
Director: J. J. Abrams
Cast: John Cho, Ben Cross, Bruce Greenwood, Simon Pegg, Chris Pine, Zachary Quinto, Winona, Ryder, Zoe Saldana, Karl Urban, Anton Yelchin, Eric Bana, Leonard Nimoy
Introduction: The story takes place in the 23rd century, with the rapid development of science and technology, and humans can already travel interstellar. Spock, a boy born on Vulcan in 2230, is often ridiculed and bullied by his colleagues because his mother is a human. Father Sarek is a diplomat of Vulcan, and Spock has been struggling between the serious Vulcan logic education and his human emotions since he was a child. After growing up, Spock met Kirk, who also had great ambitions. Although the two had constant conflicts, they gradually began to understand each other through various tasks. The old captain of the Enterprise is Christopher Pike, and the crew includes medical officer McCoy, chief engineer Scott, communications officer Uhuula, helmsman Sulu, and the 17-year-old navigator-a genius boy, Chekov. And the elderly Spock from the future traveled through time and space and told Kirk that Nino, the remnant of the Romulan Empire in the future, had also returned to the present, and led a large team to avenge. Nino had destroyed Spock's hometown, Vulcan. The next goal is the earth.
Final Words
If you are interested in other outstanding Prime movies or TV shows, please pay attention to our website. We will continue to introduce the most worth watching Prime movies and TV shows. Incidentally, you also can't miss a perfect video downloading tool called SameMovie Amazon Video Downloader, which is capable of downloading Prime videos with ease. With SameMovie, you can save your favorite Prime movies, TV shows and other content forever. SameMovie also supports downloading movies in HD quality(up to 1080p). After downloading the video with SameMovie, you can transfer the video to any device and watch it anytime, anywhere. Just have a try!
Note: SameMovie strictly observes the legal regulations and never circumvents DRM copy protection.
Video Tutorial: How to Save Amazon Videos in MP4 Format
Tips You May Want to Know