The 10 Best New Movies on Netflix in 2021
Despite being challenged by the many rising stars, Netflix is still considered as a bellwether for ushering in the era of streaming video. Undoubtedly, Netflix's position is mainly strengthened by its huge collection of high-quality movies and TV shows. Even so, "what's the new movie I can watch on Netflix" is still a common question raised by many of Netflix's subscribers when they get tired of a dizzy array of choices customised by Netflix's recommendations algorithm.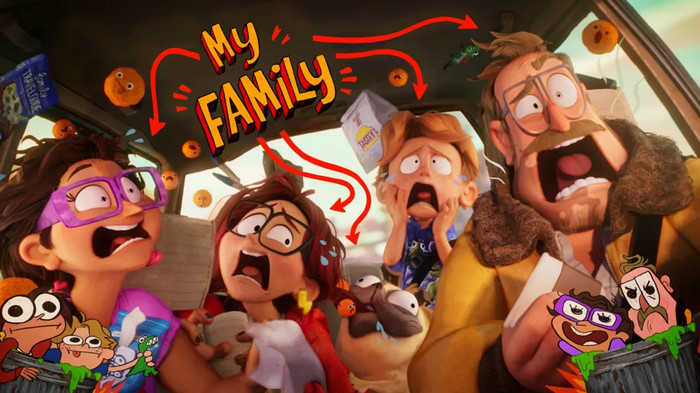 No need to wonder more about "With so many films to choose from Netflix, where do I start? ". Here's good news: SameMovie Editors have carefully selected 10 best new movies on Netflix in 2021 for you. Only to spend the next 10 minutes scrolling through the following selected suggestions from many movie reviews, it would be easier for you to unwind the good movies that you truly want.
Editor's Note: The list is in no particular order.
1. The Mitchells vs. The Machines
Director: Michael Rianda
Cast: Abbi Jacobson, Danny McBride, Maya Rudolph, and Michael Rianda
Introduction: An animated action-comedy about an ordinary family who finds themselves in the middle of their biggest family challenge yet...saving the world from the robot apocalypse. No big deal, right? It all starts when creative outsider Katie Mitchell is accepted into the film school of her dreams and is eager to leave home and find "her people," when her nature-loving dad insists on having the whole family drive her to school and bond during one last totally-not-awkward-or-forced road trip. But just when the trip can't get any worse, the family suddenly finds itself in the middle of the robot uprising. Everything from smartphones, to roombas, to evil Furbys are employed to capture every human on the planet. Now it's up to the Mitchells, including upbeat mom Linda, quirky little brother Aaron, their squishy pug, Monchi, and two friendly, but simple-minded robots to save humanity.
Watch The Mitchells vs. The Machines on Netflix
2. Wish Dragon
Director: Chris Appelhans
Cast: John Cho, Natasha Liu Bordizzo, Bobby Lee, Constance Wu, Will Yun Lee, and Max Charles
Introduction: After stumbling upon a teapot containing a magic, smart-talking Wish Dragon named Long (John Cho), college student Din (Jimmy Wong) uses his three wishes to try and reconnect with his childhood friend, Li Na (Natasha Liu Bordizzo). Din hasn't seen her in 10 years, since her father's company made it big and she started living a life of luxury. After using a wish to get into her swanky birthday party, Din realizes they're now residing in two completely different worlds. Oh, and also three mysterious henchmen are trying to steal the teapot to bring to a shady figure.
Watch Wish Dragon on Netflix
3. Army of the Dead
Director: Zack Snyder
Cast: Dave Bautista, Ella Purnell, Omari Hardwick and Ana de la Reguera.
Introduction: With the abandoned, walled city of Las Vegas overrun with zombies, after a disastrous government fault, the billionaire casino magnate, Bly Tanaka, realises that he has left something in Sin City: $200 million to be more precise. For the time being, his mountains of cash are safe behind his impenetrable casino vault; however, the US President plans to nuke the entire city in less than 96 hours. Now, Tanaka is willing to pay $50 million to the decorated former mercenary, Scott Ward, and his hand-picked team to retrieve the money before the bomb obliterates the city. Indeed, this is a life-changing offer Scott cannot refuse; nevertheless, the rules have changed, and the horde of the walking undead seems to be more organised than they might have expected. But, time is running out. Can they return from Vegas in one piece and rich?—Nick Riganas
Watch Army of the Dead on Netflix
4. Fatherhood
Director: Paul Weitz
Cast: Kevin Hart, Alfre Woodard, Melody Hurd, Lil Rel Howery, DeWanda Wise and Holly Gauthier-Frankel
Introduction: Liz Logelin (Deborah Ayorinde) suffers a complication as soon as she gives birth. She doesn't survive the health complications. Matt Logelin is left to fend for himself in a situation he wasn't even scarcely prepared for. With a just born in his hand and a whole bunch of responsibilities that come with that, Matt doesn't know what to say or what to do. His mother-in-law, Marion, suggests that he should give the child to them. Even Matt's mother agrees that at least he should move to their city if he doesn't want to give the child altogether. But Matt agrees to neither. He has his job in his city, and he feels that if there is anyone who should be bringing up the child, it should be him.
Watch Fatherhood on Netflix
5. The Woman in the Window
Director: Joe Wright
Cast: Amy Adams, Fred Hechinger, Gary Oldman, Julianne Moore, Jennifer Jason Leigh, Wyatt Russell and Brian Tyree Henry
Introduction: Living in denial, the depressed, pill-popping child psychologist, Anna Fox, has holed herself up in her eerily vacant, ill-lit Manhattan brownstone apartment for the past ten long months, separated from her husband and their eight-year-old daughter. While unsuccessfully grappling with agoraphobia and intense panic attacks, suddenly, the Russells move in across the street, and brimming with curiosity, Anna decides to distract attention away from her problems by peeking into the lives of the unsuspecting new tenants. Then, one night, tensions flare, a deadly kitchen knife gleams in the dim light, and before long, someone ends up dead. Has troubled Anna, indeed, witnessed a gruesome scene of blood-stained domestic violence or is her wine-addled mind playing cruel tricks on her?—Nick Riganas
Watch The Woman in the Window on Netflix
6. To All the Boys: Always and Forever
Director: Michael Fimognari
Cast: Lana Condor, Noah Centineo, Janel Parrish, Anna Cathcart, Ross Butler, Emilija Baranac, Trezzo Mahoro, and June B. Wilde
Introduction: All of which is to say that the light frothiness of To All The Boys I've Loved Before isn't the aim here — if the first entry was a teen rom-com and the second was a teen melodrama, Always And Forever is more a coming-of-age story, one that offers surprisingly nuanced explorations of what it means to look beyond the end of your high-school years without easy or convenient solutions. Most refreshingly, it's also about Lara Jean making her own decisions for her own reasons, taking genuine agency over her future direction.-Ben Travis
Watch To All the Boys: Always and Forever on Netflix
7. Finding 'Ohana
Director: Jude Weng
Cast: Kea Peahu, Alex Aiono, Lindsay Watson, Owen Vaccaro, Kelly Hu, Branscombe Richmond and Ricky Garcia
Introduction: A summer in rural Oahu takes an exciting turn for two Brooklyn-raised siblings when a journal pointing to long-lost treasure sets them on an epic adventure with new friends, and leads them to reconnect with their Hawaiian heritage. It starts out with a wildly edited bike race, and then we get our characters who fit right into their categories. This cast of characters feature the ambitious adventurer, the overly flirtatious teen, the sibling who doesn't feel like the other sibling loves them, and so on. This is all harsh for a film that did have its shining moments. The cast is having a great time, and what they managed to do with the concept of heritage and family was sweet. But when you are attempting to bring us a modern day Goonies, at least try and nail your characters before shifting focus to the plot. The "treasure hunt" itself was fun. And finding 'Ohana has the potential to build into something interesting with a sequel.- Austin Burke
Watch Finding 'Ohana on Netflix
8. The Witcher: Nightmare of the Wolf
Director: Kwang Il Han
Cast: Theo James, Shia LaBeouf, Mary McDonnell, Lara Pulver, Graham McTavish, David Errigo Jr.and Tom Canton
Introduction: The world of The Witcher expands in this anime origin story: Before Geralt, there was his mentor Vesemir a swashbuckling young witcher who escaped a life of poverty to slay monsters for coin. But when a strange new monster begins terrorizing a politically fraught kingdom, Vesemir finds himself on a frightening adventure that forces him to confront the demons of his past.
Watch The Witcher: Nightmare of the Wolf on Netflix
9. Bo Burnham: Inside
Director: Bo Burnham
Genres::Stand-Up Comedy, Offbeat Comedies
Introduction: For a comedy special, Bo Burnham: Inside is a haunting look at what the past year has been like. That also makes sense, considering that he filmed the special over the course of the past year. Filled with commentary on quarantine, internet culture, and the everyday throes of what 2020 looked like, Inside is a comedic masterpiece and a sobering look at what will surely be one of the most historic events of our time.
Watch Bo Burnham: Inside on Netflix
10. Thunder Force
Director: Ben Falcone
Cast: Melissa McCarthy, Octavia Spencer, Jason Bateman, Bobby Cannavale, Pom Klementieff, Melissa Leo
Introduction: In a world terrorized by super-villains, one woman has developed the process to give superpowers to regular people. But when scientist Emily Stanton accidentally imbues her estranged best friend with incredible abilities, the two women must become the first superhero team. Now, it is up to Thunder Force to battle the super-powered Miscreants and save Chicago from the clutches of The King.—Macroplanet
Watch Thunder Force on Netflix
Final Words
Although Netflix has a huge catalogue of movies, from studio releases to Netflix's original productions, it could be hard for many video lovers to puzzle out what's the best and latest movies worth watching. Hopefully, get started with the above handpicked new movie suggestions, you can more easily find the new stories interest you most and better enjoy your time alone or with families.
If you would like to save these exciting movies for offline watching anywhere anytime, SameMovie Netflix Video Downloader will be your best tool to help you put this idea into practice and fastly download any movies and TV shows as your various need. For example, SameMovie can save any videos in MP4 or MKV format in multiple sizes or quality options(up to 1080p). Besides, all available subtitles or audio tracks(including 5.1 sound) can be downloaded with no loss as well. Only need to input the name or URL of the video, SameMovie will show you all the related videos and download your selected videos very fast. So just come on to experience SameMovie by clicking the "Download Now" button without hesitation!
Note: SameMovie strictly observes the legal regulations and never circumvents DRM copy protection.
Video Tutorial: How to Download Netflix Video on PC?
Tips You May Want to Know