15 Classic Disney Animated Movies You Can't Miss
Disney's animated movies have always been with us, and they have given us countless touches over the years. Disney Movies not only have an appealing plot but are also brilliant from image quality production to music presentation. Thanks to the release of Disney Plus, the days when people repeatedly watch these precious movies on DVD or VHS tapes are gone. Disney Plus owns the copyright to all Disney animated movies, making it easy for you to watch your favorite Disney classic animated movies on the Disney Plus app (and many other movies and TV shows). But Disney has a full 60 animated movies, if you want to watch them all at once, it is not easy. So today we have summarized the 15 most classic and most worth watching Disney animated movies. When you don't know which movie to start from, this article will give you a helpful reference.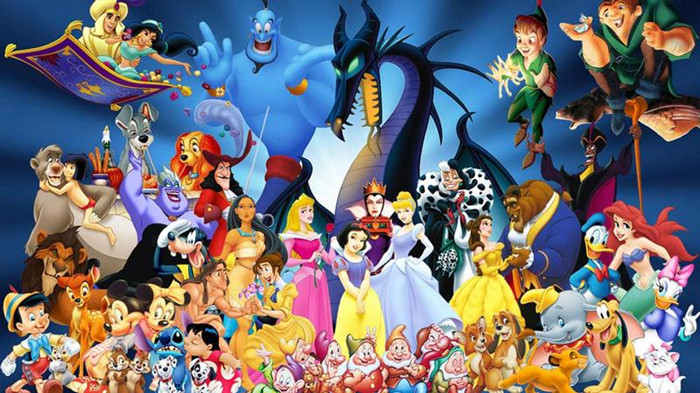 1. Frozen II (2019)
Introduction: When Elsa hears a voice singing a haunting tune, she remembers back to when she and her sister Anna were small, and their father told them a story of an enchanted forest, which was home to the Northuldra tribe. Unable to get the voice out of her head, Elsa goes on a dangerous journey north to Ahtohallan to find out what happened in the past between the tribe and her people, as well as to find out the truth behind her powers. Although Elsa feels the journey is too dangerous for anyone else, Anna insists on going with her. Olaf the snowman happily joins them, as does Sven the reindeer and a lovesick Kristoff, who's trying to find the right moment to propose to Anna. However, the sisters and friends become separated in the dangerous forest and have to find their way back to each other, while uncovering the past and righting past wrongs.
2. Frozen I (2013)
Introduction: Young princess Anna of Arendelle dreams about finding true love at her sister Elsa's coronation. Fate takes her on a dangerous journey in an attempt to end the eternal winter that has fallen over the kingdom. She's accompanied by ice delivery man Kristoff, his reindeer Sven, and snowman Olaf. On an adventure where she will find out what friendship, courage, family, and true love really mean.
3. Zootopia (2016)
Introduction: From the largest elephant to the smallest shrew, the city of Zootopia is a mammal metropolis where various animals live and thrive. When Judy Hopps becomes the first rabbit to join the police force, she quickly learns how tough it is to enforce the law. Determined to prove herself, Judy jumps at the opportunity to solve a mysterious case. Unfortunately, that means working with Nick Wilde, a wily fox who makes her job even harder.
4. Moana (2016)
Introduction: Moana Waialiki is a sea voyaging enthusiast and the only daughter of a chief in a long line of navigators. When her island's fishermen can't catch any fish and the crops fail, she learns that the demigod Maui caused the blight by stealing the heart of the goddess, Te Fiti. The only way to heal the island is to persuade Maui to return Te Fiti's heart, so Moana sets off on an epic journey across the Pacific. The film is based on stories from Polynesian mythology.
5. Big Hero 6 (2014)
Introduction: Robotics prodigy Hiro lives in the city of San Fransokyo. Next to his older brother, Tadashi, Hiro's closest companion is Baymax, a robot whose sole purpose is to take care of people. When a devastating turn of events throws Hiro into the middle of a dangerous plot, he transforms Baymax and his other friends, Go Go Tamago, Wasabi, Honey Lemon, and Fred into a band of high-tech heroes.
6. Lilo & Stitch (2002)
Introduction: A tale of a young girl's close encounter with the galaxy's most wanted extraterrestrial. Lilo is a lonely Hawaiian girl who adopts a small ugly "dog," whom she names Stitch. Stitch would be the perfect pet if he weren't in reality a genetic experiment who has escaped from an alien planet and crash-landed on Earth. Through her love, faith and unwavering belief in ohana, the Hawaiian concept of family, Lilo helps unlock Stitch's heart and gives him the ability to care for someone else.
7. Mulan (1998)
Introduction: Fearful that her ailing father will be drafted into the Chinese military, Mulan takes his spot -- though, as a girl living under a patriarchal regime, she is technically unqualified to serve. She cleverly impersonates a man and goes off to train with fellow recruits. Accompanied by her dragon, Mushu, she uses her smarts to help ward off a Hun invasion, falling in love with a dashing captain along the way.
8. The Lion King (1994)
Introduction: This Disney animated feature follows the adventures of the young lion Simba, the heir of his father, Mufasa. Simba's wicked uncle, Scar, plots to usurp Mufasa's throne by luring father and son into a stampede of wildebeests. But Simba escapes, and only Mufasa is killed. Simba returns as an adult to take back his homeland from Scar with the help of his friends Timon and Pumbaa.
9. Aladdin (1992)
Introduction: When street rat Aladdin frees a genie from a lamp, he finds his wishes granted. However, he soon finds that the evil has other plans for the lamp -- and for Princess Jasmine. But can Aladdin save Princess Jasmine and his love for her after she sees that he isn't quite what he appears to be?
10. Beauty and the Beast (1991)
Introduction: An arrogant young prince and his castle's servants fall under the spell of a wicked enchantress, who turns him into the hideous Beast until he learns to love and be loved in return. The spirited, headstrong village girl Belle enters the Beast's castle after he imprisons her father Maurice. With the help of his enchanted servants, including the matronly Mrs. Potts, Belle begins to draw the cold-hearted Beast out of his isolation.
11. The Little Mermaid (1989)
Introduction: In Disney's beguiling animated romp, rebellious 16-year-old mermaid Ariel is fascinated with life on land. On one of her visits to the surface, which is forbidden by her controlling father, King Triton, she falls for a human prince. Determined to be with her new love, Ariel makes a dangerous deal with the sea witch Ursula to become human for three days. But when plans go awry for the star-crossed lovers, the king must make the ultimate sacrifice for his daughter.
12. Cinderella (1955)
Introduction: After her father unexpectedly dies, young Ella finds herself at the mercy of her cruel stepmother and stepsisters, who reduce her to scullery maid. Despite her circumstances, she refuses to despair. An invitation to a palace ball gives Ella hope that she might reunite with the dashing stranger she met in the woods, but her stepmother prevents her from going. Help arrives in the form of a kindly beggar woman who has a magic touch for ordinary things.
13. Bambi (1942)
Introduction: In a classic Disney animation, a fawn named Bambi joins his new friends, a young rabbit named Thumper and a skunk kit named Flower in happily exploring the woods. Bambi is captivated with a young doe named Faline, and he learns from his doting mother and his father -- the Great Prince of the Forest -- that besides the delights of the forest, there is danger in open meadows where hunters can see them. Though fear and tragedy touch Bambi's life, another spring brings renewal.
14. Dumbo (1941)
Introduction: A young circus elephant is born with comically large ears and given the cruel nickname Dumbo. One day at a show, he is taunted by a group of kids, inciting his mother into a rage that gets her locked up. After Dumbo's ears cause an accident that injures many of the other elephants, he is made to dress like a clown and perform dangerous stunts. Everything changes when Dumbo discovers that his enormous ears actually allow him to fly, and he astounds everyone at the circus with his new talent.
15. Snow White and the Seven Dwarves (1937)
Introduction:The Grimm fairy tale gets a Technicolor treatment in Disney's first animated feature. Jealous of Snow White's beauty, the wicked queen orders the murder of her innocent stepdaughter, but later discovers that Snow White is still alive and hiding in a cottage with seven friendly little miners. Disguising herself as a hag, the queen brings a poisoned apple to Snow White, who falls into a death-like sleep that can be broken only by a kiss from the prince.
Final Words
With so much classic content you'll never run out of things to binge. And no matter which animated movie you want to watch, you can always find it on Disney Plus. By the way, if you want to save these classic films forever, you can choose the smart tool called SameMovie DisneyPlus Video Downloader. SameMovie provides you with effective high-quality video downloads and will save your favorite films and shows before the content expires. It also has a user-friendly and easy-to-use interface, which helps you quickly find the video you are looking for.
Note: SameMovie strictly observes the legal regulations and never circumvents DRM copy protection.
Video Tutorial: How to Watch What If after Subscription Ends?
Tips You May Want to Know