Every Marvel Movie and Show on Disney Plus
Marvel Studios' "Shang-Chi and The Legend of The Ten Rings" received a box-office of $94 million in just four days after its release, which once again proves the success and popularity of the Marvel Universe. Unlike the Black Widow and other movies, Shang-Chi wasn't available to stream on Disney Plus, at least not in these few weeks. Because Disney promised that Shang-Chi will be in theaters for at least 45 days. But the good news is that almost all Marvel films, TV shows, animations, and documentaries can be watched on DisneyPlus. And this paper will show you all Marvel movies, television dramas, and other content you can stream on Disney Plus.
1. How to Watch the Marvel Movies in Order?
For people who have never watched or only watched a few Marvel movies, it is not easy to sort out the relationship and sequence of each movie. Although the different movies of Marvel Studios occur at different points in the MCU timeline, the best order to watch the movies is the same as the order in which they were originally shown in theaters. The filmmakers designed the overall storyline in order to get the best viewing effect in this way.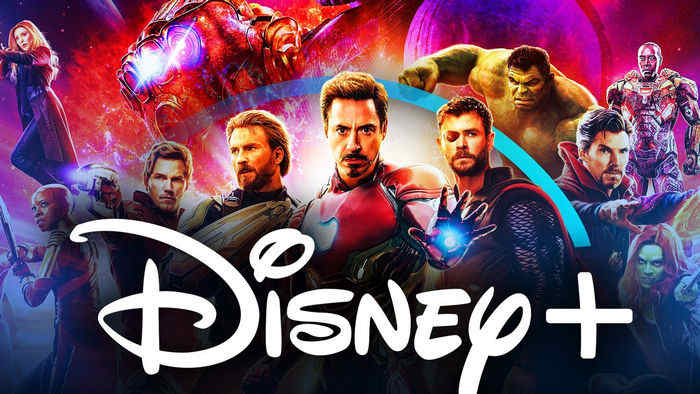 2. What Marvel Cinematic Universe Movies on Disney Plus?
For your information, below we will list Marvel movies one by one according to their release time, which is also our recommended viewing order. But unfortunately, not all MCU movies are available on Disney Plus because of the copyright issue. For example, the copyright of the Spider-Man series is held tightly by Sony. And it's not a good choice to skip the latest Spider-Man films which will make the MCU story incomplete, you can find them on other streaming platforms.
Iron Man (2008)
The Incredible Hulk (2008) - Not currently on Disney Plus
Iron Man 2 (2010)
Thor (2011)
Captain America: The First Avenger (2011)
The Avengers (2012)
Iron Man 3 (2013)
Thor: The Dark World (2013)
Captain America: The Winter Soldier (2014)
Guardians of the Galaxy (2014)
Avengers: Age of Ultron (2015)
Ant-Man (2015)
Captain America: Civil War (2016)
Doctor Strange (2016)
Guardians of the Galaxy Vol. 2 (2017)
Spider-Man: Homecoming (2017) - Not currently on Disney Plus
Thor: Ragnarok (2017)
Black Panther (2018)
Avengers: Infinity War (2018)
Ant-Man and the Wasp (2018)
Captain Marvel (2019)
Avengers: Endgame (2019)
Spider-Man: Far from Home (2019) - Not currently on Disney Plus
Black Widow (2021)
3. What 20th Century Fox Marvel Movies on Disney Plus?
Some people may wonder why Marvel movies are related to 20th Century Fox. It is because in the 1990s, Marvel Studios was on the verge of bankruptcy several times. In order to continue to operate, it had to sell the copyrights of some superheroes to other companies to make a profit. Just as Sony has the copyright of Spider-Man mentioned above, 20th Century Fox also owns the copyright of some heroes such as X-Men and Deadpool. But with Disney's acquisition of Fox, these heroes have returned to the Marvel family.
X-Men (2000)
X2: X-Men United (2003)
Fantastic Four (2005)
X-Men: The Last Stand (2006)
Fantastic Four: Rise of the Silver Surfer (2007)
X-Men Origins: Wolverine (2009)
X-Men: Days of Future Past (2014)
Fantastic Four (2015)
X-Men: Apocalypse (2016)
Some other movies are rated R, which are not available on Disney Plus. As you know, Disney never allows anything to ruin their family-friendly Reputation:
Daredevil (2003)
Elektra (2005)
The Wolverine (2013)
X-Men: First Class (2011)
Deadpool (2016)
Logan (2017)
Deadpool 2 (2018)
Dark Phoenix (2019)
The New Mutants (2020)
4. What Marvel TV shows on Disney Plus?
Except for the superhero movie, the live-action TV shows made by Marvel Studios is also an important part of the Marvel Cinematic Universe. The WandaVision, which is the most popular series around the world, has also debuted in Disney Plus.
Agent Carter (2015)
Inhumans (2017)
Runaways (2017)
WandaVision (2021)
The Falcon and the Winter Soldier (2021)
Loki (2021)
Hasn't debuted on Disney plus yet:
Daredevil
Jessica Jones
Luke Cage
Iron Fist
The Defenders
The Punisher
Agents of S.H.I.E.L.D
Cloak & Dagger
5. What Marvel Animated Series and Specials on Disney Plus?
Whether it is an old classic in the 80s or the hottest What If recently, dozens of Marvel animation content on Disney Plus is available for you to explore.
Spider-Woman (1979)
Spider-Woman (1979)
Spider-Man and His Amazing Friends (1981)
X-Men: The Series (1992)
Iron Man (1994)
Fantastic Four (1994)
Spider-Man (1994)
The Incredible Hulk (1996)
The Silver Surfer (1998)
Avengers: United They Stand (1999)
Spider-Man Unlimited (1999)
X-Men: Evolution (2000)
Fantastic Four: World's Greatest Heroes (2006)
Iron Man: Armored Adventures (2008)
Wolverine and the X-Men (2009)
The Super Hero Squad (2009)
The Avengers: Earth's Mightiest Heroes (2010)
Marvel's Ultimate Spider-Man (2012)
Hulk and the Agents of S.M.A.S.H. (2013)
Avengers Assemble (2013)
Marvel's Guardians of the Galaxy (2015)
Spider-Man (2017)
Marvel Rising: Secret Warriors (2018)
What If (2021)
6. What Marvel Shorts on Disney Plus?
Some short but very interesting animated short films are also worth watching, and they will not take up too much of your time. Watching an animated short film is like watching TikTok for five minutes.
Avengers: Secret Wars shorts
Guardians of the Galaxy shorts
The Avengers: Earth's Mightiest Heroes (2010)
Rising Initiation
Ant-Man shorts
Super Hero Adventures
Rocket & Groot
Spider-Man shorts
7. What Marvel Documentaries on Disney Plus?
On Disney Plus, you can watch all of your favorite Marvel documentaries at the click of a button. Through these documentaries, you can gain insight into the history of Marvel and the inspiration and tidbits behind the creation.
Marvel's Hero Project
Marvel's Expanding the Universe
Marvel's Assembling a Universe
Marvel 75 Years: From Pulp to Pop!
Marvel's 616
Marvel Studios: Legends
8. Upcoming Marvel Movies
With the debut of Shang-Chi, Marvel's film expansion does not stop there. In the future, Marvel will continue to release movies without interruption. Here will focus on introducing several hot movies in production.
Spider-Man: No Way Home
Director: Jon Watts
Cast: Tom Holland, Zendaya, Benedict Cumberbatch, Jon Favreau, Jacob Batalon, Marisa Tomei, J. B. Smoove, Benedict Wong, Alfred Molina, Jamie Foxx
Introduction: Spider-Man: No Way Home is co-produced by Columbia Pictures and Marvel Studios, and distributed by Sony Pictures Releasing. For the first time in the cinematic history of Spider-Man, our friendly neighborhood hero is unmasked and no longer able to separate his normal life from the high-stakes of being a Super Hero. When he asks for help from Doctor Strange, the stakes become even more dangerous, forcing him to discover what it truly means to be Spider-Man.
Release date: December 17, 2021
Thor: Love and Thunder
Director: Taika Waititi
Cast: Chris Hemsworth, Tessa Thompson, Natalie Portman, Christian Bale, Chris Pratt, Jaimie Alexander, Pom Klementieff, Dave Bautista, Karen Gillan, Sean Gunn, Jeff Goldblum, Vin Diesel
Introduction: For the longest time, it was assumed that Marvel Studios wouldn't expand their solo movie series beyond three features - with Iron Man and Captain America being the perfect examples - but the God of Thunder has struck down that "rule" with a blast of lightning. It's no secret that Chris Hemsworth doesn't really love the first two Thor films, but his experience making Thor: Ragnarok totally changed his perspective on playing the character, and now we will be getting a Thor 4 in 2022 with the brilliant title Thor: Love And Thunder. -CINEMABLEND
Release date: May 6, 2022
Doctor Strange in the Multiverse of Madness
Director: Sam Raimi
Cast: Benedict Cumberbatch, Elizabeth Olsen, Benedict Wong, Rachel McAdams, Chiwetel Ejiofor, Xochitl Gomez
Introduction: Doctor Strange in the Multiverse of Madness is an upcoming superhero film, based on the Marvel Comics superhero of the same name. The film is a sequel to Doctor Strange, Avengers: Endgame, and Spider-Man: No Way Home, and a crossover/sequel to WandaVision and Loki. It is the twenty-eighth film in the Marvel Cinematic Universe and the ninth installment of Phase Four.
Release date: March 25, 2022
Black Panther: Wakanda Forever
Director: Ryan Coogler
Cast: Lupita Nyong'o, Danai Gurira, Martin Freeman, Letitia Wright, Winston Duke, Angela Bassett, Dominique Thorne
Introduction: Despite the tragic death of Chadwick Boseman on August 28, 2020, plans for Black Panther II press on. It seems the sudden and awful casting change only delayed production by a couple of months. Filming is reportedly set to begin in July of 2021 with Shuri (Letitia Wright) taking on a larger role and actor Tenoch Huerta in talks to play the primary antagonist. Presumably, the film will detail the succession of Shuri to the throne and her attempts to become the next Black Panther. M'Baku (Winston Duke) may challenge her claim and Huerta's character will no doubt try to upset the balance of power in Wakanda. Of course, speculation rides high on just who he will play. Rumors stretching back years indicate Namor the Submariner will make his MCU debut as the film's antagonist.
Release date: July 8, 2022
The Marvels
Director: Nia DaCosta
Cast: Brie Larson, Iman Vellani, Teyonah Parris
Introduction: Given that Captain Marvel was Marvel Studios' first billion-dollar hit in 2019, Captain Marvel 2 has long been predicted as a future project for the franchise, but similar to Black Panther 2 it doesn't look like the company is rushing things at all. While it probably wouldn't have surprised anybody to see Brie Larson's Carol Danvers showing up again as the star of one of the first Phase 4 movies, it turns out we'll have to wait until 2022 before the heroine returns in her next solo adventure. -CINEMABLEND
Release date: November 11, 2022
Conclusion
With the massive collection of Marvel Cinematic Universe films and shows, Disney Plus does become the hottest streaming service. If you are a Marvel fan, then subscribing to Disney Plus is a great choice. But if you want to permanently save Marvel movies or shows, or want to convert Marvel videos to any device for offline viewing, you may need an all-around Disney+ video downloader. SameMovie DisneyPlus Video Downloader comes in handy, which helps you to save HD Marvel titles from Disney Plus forever and play them back on any device. No need to spend too much effort, just type the keywords, video name or copy and paste the video URL, all the related videos will be listed as soon as possible.
Note: SameMovie strictly observes the legal regulations and never circumvents DRM copy protection.
Video Tutorial: How to Watch What If after Subscription Ends?
Tips You May Want to Know