10 Best Christmas Movies on HBO Max 2021
Whenever the prelude of Mariah Carey's All I Want for Christmas is You sounded, it means the Christmas holiday is coming. It's time to repeat your favorite Christmas songs over and over again and watch those sweet Christmas movies before the end of the year - yes, even after Christmas. But thousands of movie choices will always dazzle you, please don't worry, this article has selected 10 HBO Max holiday-themed movies for you. Whether you want to watch a romantic movie with your lover at your leisure or watch a cozy Christmas movie on the Christmas night with family, this list has something for everyone.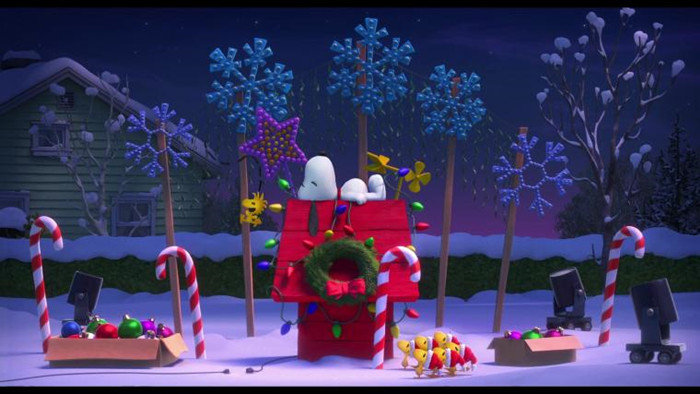 ---
Part 1: 10 Best Christmas Movies on HBO Max
1. Elf
Director: Jon Favreau
Cast: Will Ferrell, James Caan, Zooey Deschanel, Mary Steenburgen, Edward Asner, and Bob Newhart
Introduction: Buddy (Will Ferrell) was accidentally transported to the North Pole as a toddler and raised to adulthood among Santa's elves. Unable to shake the feeling that he doesn't fit in, the adult Buddy travels to New York, in full elf uniform, in search of his real father. As it happens, this is Walter Hobbs (James Caan), a cynical businessman. After a DNA test proves this, Walter reluctantly attempts to start a relationship with the childlike Buddy with increasingly chaotic results.
2. National Lampoon's Christmas Vacation (1989)
Director: Jeremiah S. Chechik
Cast: Chevy Chase, Beverly D'Angelo, and Randy Quaid
Introduction: National Lampoon's Christmas Vacation is a 1989 American Christmas comedy film and the third installment in National Lampoon magazine's Vacation film series. As the holidays approach, Clark Griswold (Chevy Chase) wants to have a perfect family Christmas, so he pesters his wife, Ellen (Beverly D'Angelo), and children, as he tries to make sure everything is in line, including the tree and house decorations. However, things go awry quickly. His hick cousin, Eddie (Randy Quaid), and his family show up unplanned and start living in their camper on the Griswold property. Even worse, Clark's employers renege on the holiday bonus he needs.
3. A Christmas Story (1983)
Director: Bob Clark
Cast: Melinda Dillon, Darren McGavin, Peter Billingsley
Introduction: It's the final days before Christmas in early 1940s Cleveland, and 9-year-old Ralphie wants one thing from Santa Clause more than anything else: a Red Ryder Carbine Action Air Rifle. As he trudges through the snow to school, faces the neighborhood bully and visits a malevolent department store Santa Clause, Ralphie connives, conspires and campaigns for the most fabulous Christmas present ever in this heartwarming, hysterical and sweetly nostalgic holiday film.
4. Harry Potter and the Sorcerer's Stone
Director: Chris Columbus
Cast: Daniel Radcliffe, Rupert Grint, Emma Watson, John Cleese, Robbie Coltrane, Warwick Davis, Richard Griffiths, Richard Harris, Ian Hart, John Hurt, Alan Rickman, Fiona Shaw, Maggie Smith, Julie Walters
Introduction: Adaptation of the first of J.K. Rowling's popular children's novels about Harry Potter, a boy who learns on his eleventh birthday that he is the orphaned son of two powerful wizards and possesses unique magical powers of his own. He is summoned from his life as an unwanted child to become a student at Hogwarts, an English boarding school for wizards. There, he meets several friends who become his closest allies and help him discover the truth about his parents' mysterious deaths.
5. Miracle On 34th Street (1994)
Director: Les Mayfield
Cast: Richard Attenborough, Elizabeth Perkins, Dylan McDermott, J. T. Walsh, James Remar, Mara Wilson, Robert Prosky
Introduction: Six-year-old Susan Walker (Mara Wilson) is skeptical of the Christmas myth surrounding Santa Claus, a trait she perhaps learned from her mother, Dorey (Elizabeth Perkins). When tasked with hiring the Santa who will pose with kids at Macy's, Dorey enlists a man with the curious name of Kris Kringle (Richard Attenborough) who claims to be Santa himself. His assertions are met with scoffs and threats of institutionalization, but a young lawyer, along with Susan and Dorey, comes to his defense.
6. Miracle On 34th Street (1947)
Director: George Seaton
Cast: Maureen O'Hara, John Payne, Edmund Gwenn, Gene Lockhart, Natalie Wood, Porter Hall, William Frawley, Jerome Cowan, Philip Tonge
Introduction: In this Christmas classic, an old man going by the name of Kris Kringle (Edmund Gwenn) fills in for an intoxicated Santa in Macy's annual Thanksgiving Day parade. Kringle proves to be such a hit that he is soon appearing regularly at the chain's main store in midtown Manhattan. When Kringle surprises customers and employees alike by claiming that he really is Santa Claus, it leads to a court case to determine his mental health and, more importantly, his authenticity.
7. Meet Me in St. Louis
Director: Vincente Minnelli
Cast: Judy Garland, Margaret O'Brien, Mary Astor, Lucille Bremer, Tom Drake, Marjorie Main
Introduction: "Meet Me in St. Louis" is a classic MGM romantic musical comedy that focuses on four sisters (one of whom is the nonpareil Judy Garland) on the cusp of the 1904 St. Louis World's Fair. The film spotlights the sisters' education in the ways of the world, which includes, but isn't limited to, learning about life and love, courtesy of the prototypical boy next door. In the end, love -- accompanied by song, dance and period costumes, all in glorious Technicolor -- conquers all.
8. The Shop Around the Corner
Director: Ernst Lubitsch
Cast: Margaret Sullavan, James Stewart, Frank Morgan
Introduction: Alfred Kralik (James Stewart) and Klara Novak (Margaret Sullavan) are employees at Matuschek and Company, a general store in Budapest. Klara and Alfred are constantly at odds with each other, butting heads and disagreeing on almost everything. Both are enamored of their respective pen pals, who serve as welcome distractions in their lives. Little do they know, they are each the other's pen pal and, despite outward differences, have unwittingly fallen in love through their letters.
9. Bit Christmas
Director: Michael Dowse
Cast: Neil Patrick Harris, Winslow Fegley, June Diane Raphael, David Cross, Steve Zahn
Introduction: June Diane Raphael has impeccable comic timing as Jake's mom, Kathy. (When told the milk in the fridge has expired, she says, "No, that's a suggestion, it's fine.") Steve Zahn is perfectly cast as Jake's dad, John, who is forever working on home improvement projects even though he's borderline incompetent with tools in his hand. Mostly, though, this is the story of Jake and his friends, who think getting a Nintendo will be the most cherished memory of their young lives when they're making the REAL lasting memories just by hanging out with one another. The 1980s! What a time.
10. Shazam!
Director: David F. Sandberg
Cast: Zachary Levi, Mark Strong, Asher Angel, Jack Dylan Grazer, Djimon Hounsou
Introduction: We all have a superhero inside of us -- it just takes a bit of magic to bring it out. In 14-year-old Billy Batson's case, all he needs to do is shout out one word to transform into the adult superhero Shazam. Still a kid at heart, Shazam revels in the new version of himself by doing what any other teen would do -- have fun while testing out his newfound powers. But he'll need to master them quickly before the evil Dr. Thaddeus Sivana can get his hands on Shazam's magical abilities.
---
Part 2: How to Download HBO Max Movies
You can watch these Christmas movies on HBO Max online or download them to stream offline. There are two ways to download movies from HBO Max, one is to download via its app and the other one is to use a capable tool called SameMovie HBOMax Video Downloader. It is a quite easily tool that can effectively download HD HBO Max movies and TV shows in 6 steps. It is a customized app for HBO Max users that can save videos in MP4 or MKV format. SameMovie also fully supports searching for videos by using video name, keywords or copy-pasting the URL from the HBO Max web player. In the following we will show you how to download HBO Max video with SameMovie HBOMax Video Downloader.
STEP 1

Download and Launch HBOMax Video Downloader

Please download SameMovie HBOMax Video Downloader on your Windows or Mac computer. And then launch HBOMax Video Downloader on your PC. After that, please enter a casual video name in the search box to activate the login windows and log into your HBO Max account.

Note: SameMovie needs to work with an HBO Max account to access HBO Max services. But please don't worry, SameMovie will not collect any information other than the videos and your personal and privacy safety can be guaranteed to the greatest extent.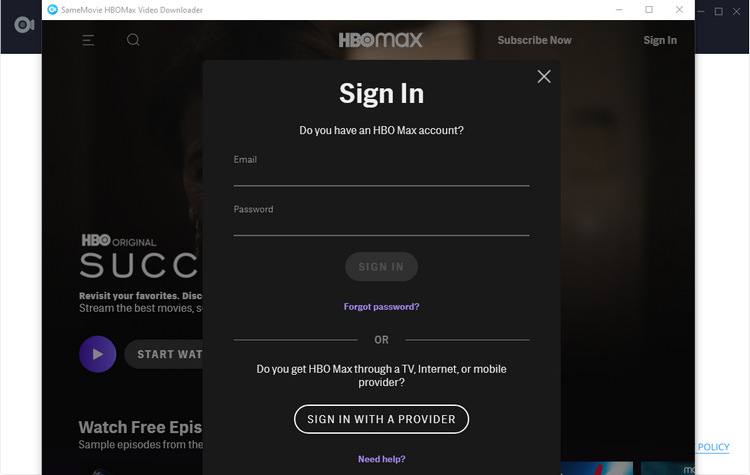 STEP 2

Select Output Settings

Please click the "Settings" button on the top right corner of the program and select the video quality (from High to Low), video format( MP4 or MKV), the language of audio tracks and subtitles, and so on. Plus, you can also customize the Output Folder here.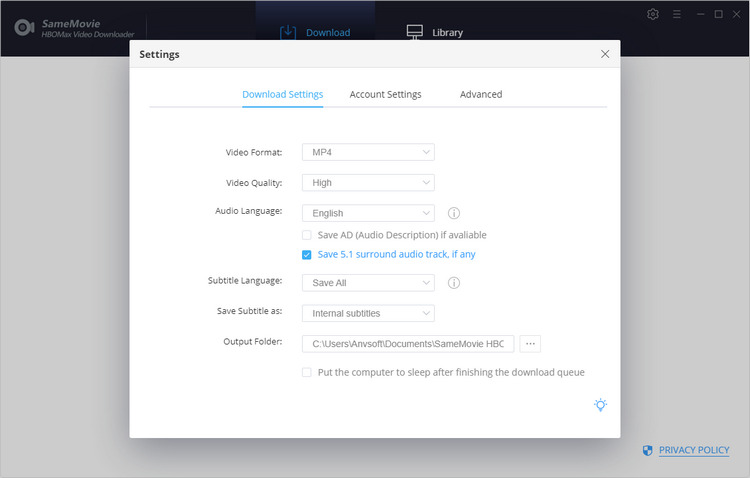 STEP 3

Add Movies or TV Series from HBO Max

You can search the video by name/keywords or copying and pasting the link from the HBO Max web player into the SameMovie search box.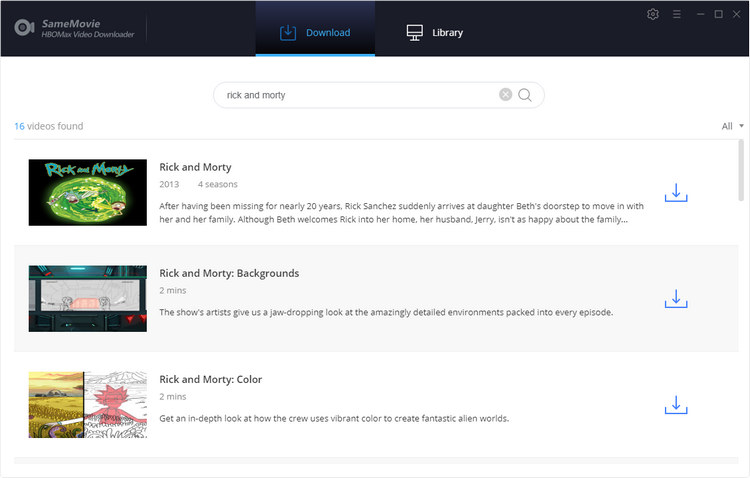 STEP 4

Select "Advanced Download" Setting

If you are trying to download a TV show, just click the

button, followed that a window will pop up prompting you to choose titles and seasons, and to choose audio tracks and subtitles by clicking "Advanced Download" in the bottom left corner. And you can also set the output video size and quality as needed.
For HBO Max movies, you can click the

button to open the "Advanced Download" window to select specific video quality, audio tracks, and subtitles.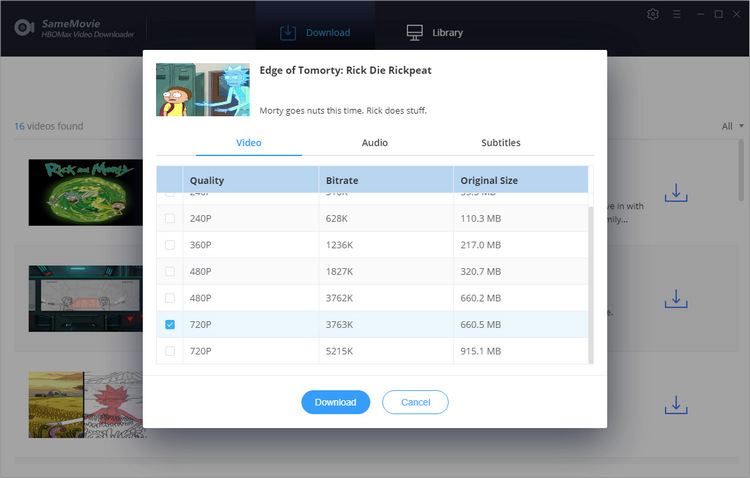 STEP 5

Start to Download HBO Max Video to MP4

After the above steps, you can click on

button to start downloading HBO Max movies or TV shows to MP4 files.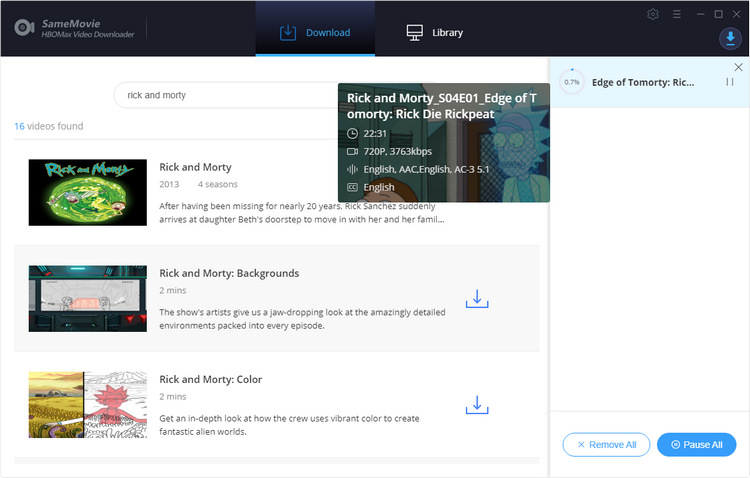 STEP 6

Find the Downloaded MP4 Videos

After the downloading, you can click "Library" - "Folder icon" to locate the downloaded videos directly. You will find the HBO Max movies have been saved to MP4 files with no ads. Now, please feel free to transfer HBO Max videos to other devices for watching offline.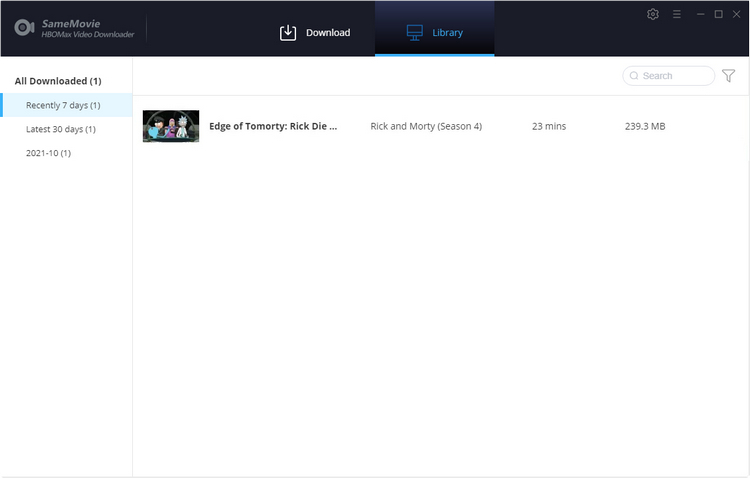 Tips:
At Christmas, people always sit together and look at old photos to reminisce about the past. But old photos are often very blurry, you may need a tool to help you restore the sharpness of the photos.
Photo Enhancer AI
- a powerful AI-embedded enhancer tool helps you improve image quality and enlarges photo size with quality. It supports you to achieve natural color rendition, high detail, and high quality to your photographs. By the way, if you have some old videos with low quality, you can use
Video Enhancer AI
to help you reproduce the quality of high-definition videos.
Tips You May Want to Know