15 Best Christmas Movies on Hulu in 2021
We're now in December and the countdown to Christmas is officially on. Christmas is the season for kicking back, relaxing, and watching something silly or sweet, and being filled with holiday spirit. When you're looking for a break from December's flurry of holiday content, Hulu always comes to help. It not only offers a robust selection of critical hits and crowd-pleasing favourites that will get you into the holiday spirit but also makes sure that its subscribers have enough titles to choose from, both licensed and original.
However, with so many titles to choose from, trying to find the right one for your viewing needs can feel overwhelming. If you've made Hulu your go-to streaming platform, and you're looking for good movies on Hulu, you've come to the right place. To give you the guidance you need in the yuletide glee, the following is a lineup of the best 15 Christmas holiday movies on Hulu and a tip for you to watch the Hulu movies offline.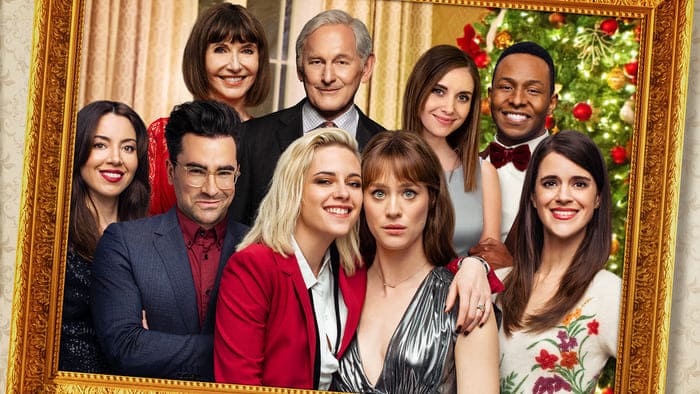 ---
1. Happiest Season
Introduction: This holiday rom-com features an impressive ensemble with Kristen Stewart, Mackenzie Davis, Alison Brie, Dan Levy, Mary Steenburgen, and Victor Garber. The film follows Abby (Stewart) and her girlfriend Harper (Davis) as they travel to Harper's hometown for the holidays. Though Abby plans to propose during the trip, she soon discovers that Harper hasn't come out to her family yet. The movie received positive reviews from critics, and holds an "82% Fresh" rating on Rotten Tomatoes.
2. The Man Who Invented Christmas
Introduction: In 1843, despite the fact that Dickens is a successful writer, the failure of his latest book puts his career at a crossroads, until the moment when, struggling with inspiration and confronting reality with his childhood memories, a new character is born in the depths of his troubled mind; an old, lonely, embittered man, so vivid, so human, that a whole world grows around him, a story so inspiring that changed the meaning of Christmas forever.
3. The Holiday
Introduction: In this romantic comedy starring Cameron Dihl, Kate Winslet, Jude Law, and yes, Jack Black, two women swap houses and discover just how life changing an address can be. "The Holiday" is directed by Nancy Meyers, who is also known for "The Intern," "It's Complicated," and "What Women Want."
4. A Christmas Carol
Introduction: In this FX take on the Charles Dickens holiday classic, Guy Pearce stars as the iconic Ebenezer Scrooge. For Scrooge, Christmas Eve is just another business day for the miserly tycoon. Retiring to his abode, the foul man gets the fright of his life when three benevolent spirits carry him through a nightlong odyssey, transporting Scrooge in and out of time and space to better understand himself, Christmas, and the meaning of life.
5. Christmas with the Kranks
Introduction: Based on the novel Skipping Christmas by John Grisham, this film follows a family that decides to opt out of holiday festivities when they find out their daughter isn't coming home from college for the holidays, only to be pressured into it by family and neighbors.
6. A Very Brady Christmas
Introduction: Getting any family together for the holidays is a difficult task, but with six kids, the Brady's have it even tougher. But "A Very Brady Christmas" sees the now adult Marsha, Jan, Cindy, Greg, Peter, and Bobby back home for the holidays in spite of all their personal drama. The entire original cast — sans Susan Olsen, the original Cindy — reunited in this 1988 family film.
7. 12 Pups of Christmas
Introduction: A farm girl nurses a wounded reindeer she believes is one of Santa's, hoping to bring it back to health in time for Christmas. Her holiday spirit inspires those around her, something her disheartened father is having trouble understanding - Jessica, the daughter of an impoverished farmer, still believes in Santa Claus. So when she comes across a reindeer with an injured leg, it makes perfect sense to her to assume that it is Prancer, who had fallen from a Christmas display in town. She hides him in her barn and feeds him cookies until she can return him to Santa. Her father finds him and decides to sell him to the butcher, not for venison chops, but as an advertising display.
8. The Santa Clause
Introduction: Martin (Donny Bohl) is having a tough time keeping his business afloat. Specializing in dog GPS locators, he and his new hire, Erin (Charlotte Sullivan), are tasked with finding homes for 12 puppies that were abandoned after a photo shoot. As Martin and Erin band together under pressure, the coworkers begin to discover a blooming love for one another — just in time for the holidays.
9. Dear Santa
Introduction: Beverly Hills 90210 alumni Jason Priestley takes the helm for this warmhearted romantic comedy about a die-hard party girl struggling to change her frivolous ways. Crystal (Amy Acker) comes from a wealthy family and loves to spend money-her parents' money. When they decide it's time she made something of her life, they give her until Christmas to clean up her act--if she doesn't, they will promptly cancel her credit cards. Petrified at the prospect of having no money and no boyfriend, Crystal has a flash of inspiration when she finds a letter to Santa from 7-year-old Olivia (Emma Duke), who wants Santa to find her widower father Derek (David Haydn-Jones) a new wife. Derek owns a local soup kitchen and has dedicated his life to helping others. Though Crystal has never set foot in a soup kitchen, she soon seeks out Derek and starts volunteering her time to get closer to him, unaware that Derek's girlfriend Jillian (Gina Holden) will do anything to keep her man to herself. Meanwhile, Crystal remains determined to prove herself, despite the obstacles n her way.—Jason Buchanan, Rovi
10. Jingle All the Way
Introduction: Howard Langston, a salesman for a mattress company, is constantly busy at his job, and he also constantly disappoints his son, Jamie. After he misses his son's karate exposition, he tries hard to come up with a way to make it up to him. Jamie says he all he wants for Christmas is an action figure of television hero Turbo Man. Unfortunately for Howard, it is Christmas Eve, and every store is sold out of Turbo Man figures; now Howard must travel all over town and compete with everybody else including a mail man named Myron to find a Turbo Man action figure, and to make it to the Wintertainment Parade, which will feature Turbo Man.
10. Every Other Holiday
Introduction: Tracie allows her ex-husband back into the house for the holidays to fulfill her children's wishes of one more Christmas together as a family. But as the magic of the season brings the family closer together, she discovers that maybe the spark of their relationship isn't extinguished after all.
11. A Dogwalker's Christmas Tale
Introduction: In need of cash, canine-averse Luce reluctantly accepts a job as a dog-walker. After spending some time with dog owners in the local park, though, she becomes a part of their community—and joins them in their quest to save the park.
12. Holiday in Handcuffs
Introduction: It's days until Christmas and Trudie has just lost her job and been dumped by her boyfriend. Desperate to save face and please her overbearing parents, she kidnaps a handsome gentleman and forces him to pose as her boyfriend for the holidays. Melissa Joan Hart and Mario Lopez star.
13. So This Is Christmas
Introduction: On more of a melodramatic wavelength, So This Is Christmas follows a young adult who's living in the fast lane and needs to turn her life around. Things change when she decides to direct a play for underprivileged kids. Eric Roberts and Vivica A. Fox star in this soapy, almost melodramatic Christmas movie about a couple's tumultuous relationship and its impact on their 18-year-old daughter. As she seeks refuge from the chaos at home, she starts to fall in with a bad crowd, and her life begins to head in the wrong direction. But at Christmas, everybody gets a shot at redemption.
14. Pooka!
Introduction: A struggling actor gets hired to wear a plush suit to promote Pooka, the hottest toy of the Christmas season. But as he spends more time in the suit, it slowly takes over his personality until it possesses him entirely. This holiday thriller is a Hulu Original.
15. Rare Exports: A Christmas Tale
Introduction: It's the eve of Christmas in northern Finland and an archaeological dig has just unearthed the real Santa Claus. But this particular Santa isn't the one you want coming to town. When all the local children begin mysteriously disappearing, young Pietari and his father Rauno, a reindeer hunter by trade, capture the mythological being and attempt to sell Santa to the misguided leader of the multinational corporation sponsoring the dig. Santa's elves, however, will stop at nothing to free their fearless leader from captivity.
---
Final Words
These are our picks for the best 15 Hulu Christmas movies that are currently available on the service. If you want to download your favourite Hulu movies offline, you can use the official applications launched by Hulu. However, the download function on Hulu does come with a lot of issues and limitations. For example, Hulu does not allow subscribers to enjoy no-ads content offline on a PC or Mac. If you feel it is difficult to tolerate the limits, there is a third-party downloader- SameMovie Hulu Video Downloader can help you out.
SameMovie Hulu Video Downloader comes with a bunch of functionalities that give the flexibility to the viewers to enhance their watching experience. This all-in-one tool lets you download unlimited Hulu movies as MP4 or MKV files without any ads. And it also allows you to choose multiple subtitles and lossless audio tracks. With SameMovie Hulu Video Downloader, it's no longer a dream to download multiple Hulu movies or shows at a go. There are more exclusive features to give you a remarkable viewing experience. Just click the "Download Now" below to have a free trial. I am sure you will not be disappointed.
Tips:
While we have a family reunion at Christmas, we can use
Photo Enhancer AI
or
Video Enhancer AI
to restore some old family photos or videos and give those memorable moments a second life. The enhancer tools can automatically improve your photo and video quality, color and contrast with the power of AI algorithm. Plus, the tools can easily make the old, blurred, or low-quality photos/videos to high-definition (up to 8K) and satisfactory clarity.
Tips You May Want to Know