All Things You Need to Know about Disney Plus
Disney Plus is a subscription-based streaming video service operated by Disney company, which was launched on November 12, 2019. It offers a range of movies and TV shows for users to view at any time, just like Netflix, HBO, Hulu, and Amazon Prime Video. Disney+, while the new member of the huge video streaming market, is going up against heavyweights such as Netflix and Amazon.
Disney Plus quickly became one of the most popular streaming services in existence. As of July 2021, Disney+ attracts over 110 million subscribers, while its original goal is to reach 90 million subscribers by 2024. Disney Plus is the only platform that can watch live-action Star Wars, The Mandalorian, and content from Marvel Studios. It also hosts a wealth of content from Pixar, The Simpsons, and National Geographic. These content are the most important factors for Disney+ to quickly become popular around the world.
The following will detail all the information you need to know about how the Disney Plus streaming service works, including the shows and movies included, the cost of each plan, and so on.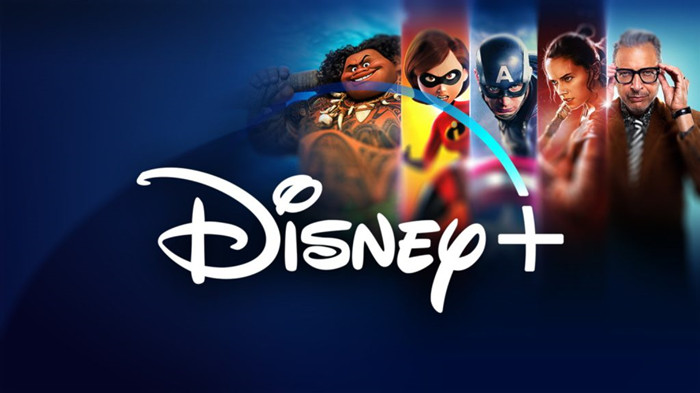 1. Where is Disney Plus Available?
Disney+ was launched early in the Netherlands on September 12, 2019 as a free trial, and officially launched in the Netherlands, United States, and Canada on November 12, 2019. Now, this service is currently available in over 50 countries around the world, including US, Canada, the Netherlands, Austria, Germany, Italy, Spain, Switzerland, France, India, Belgium, Denmark, Iceland, Finland, Norway, Portugal, Sweden, United Kingdom, Ireland, Isle of Man, Monaco, Wallis and Futuna, French West Indies, French Guiana, New Caledonia, Japan, Indonesia, and more. Step by step, Disney Plus will continue to expand globally.
2. What's on Disney Plus?
Disney+ boasts a massive video library with more than 13000 shows and movies, including original television series and films from Disney Channel and Freeform, and select titles from 20th Television and ABC Signature. And there's always something new to discover. Below we will make a brief summary:
All the Marvel movies, original TV shows, and new spin-off series, such as The Avengers and WandaVision
Original content from the entire Star Wars series, including The Mandalorian, exclusively released by Disney Plus
Exclusive films of Disney Plus, like Hamilton, Black is King and the 2020 version of Mulan
All Pixar movies as well as new shows and exclusive short films
National Geographic content, including Wicked Tuna and Brain Games
Disney classic animations, such as Snow White, The Lion King and Dumbo
Relaxed reality shows and cartoons, including the entire Simpsons catalog
Excellent musical collection, including the Taylor Swift concert-movie "Folklore", a film version of Broadway show "Hamilton", and Beyoncé's visual album "Black is King"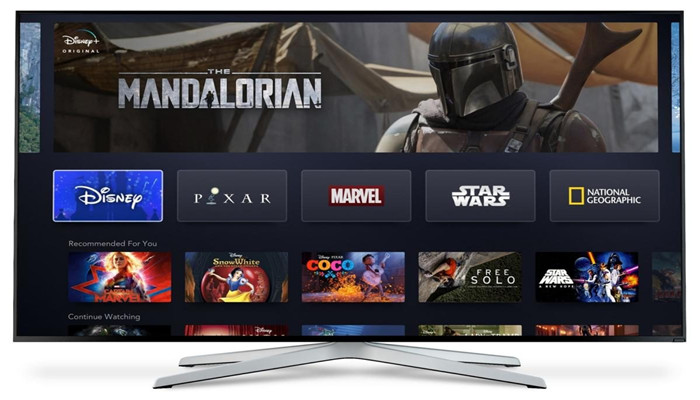 3. What is Disney Plus Star?
In fact, Disney wants to use Disney Plus Star instead of Hulu to enter the international market, because Disney previously invested a lot of publicity and advertising costs on Hulu, but Hulu has been in a tepid state, as Disney CEO Bob Chapek said: Hulu is not well-known outside the U.S. Therefore, the launch of Disney Plus Star is to make up for the gap in Hulu in the international market. Star and Hulu are similar in that Star will release all Disney exclusive shows and movies previously only released in the United States, including Disney Television Studios, 20th Century Studios, 20th Television, ABC, Searchlight Pictures and more. In addition, Star is an emerging entertainment brand for adult audiences. Star provides a large number of R-rated movies and TV shows suitable for adults to watch, including series such as "House of Spoof" and "Grey the Intern", blockbusters such as "Deadpool" and "Die Hard".
4. How Much does Disney Plus Cost?
The subscription fee for Disney Plus is $7.99 per month, or you can pay $79.9 for a year to save more than 15%. Another price option is that you can bundle Disney+, Hulu, and ESPN+ for $13.99 per month. After subscribing to this service, you can get the ad-free access to all streaming media titles.
Besides, there is an add-on called Disney Plus Premier Access. This premium option was officially launched with the live-action remake of Mulan in September 2020, towards recreating the cinema experience for subscribers. Pay US$29.9 to watch the latest blockbuster at home, including Jungle Cruise and Black Widow. Raya and the Last Dragon (released in March) and Cruella (released in May) are already available in Premier Access too.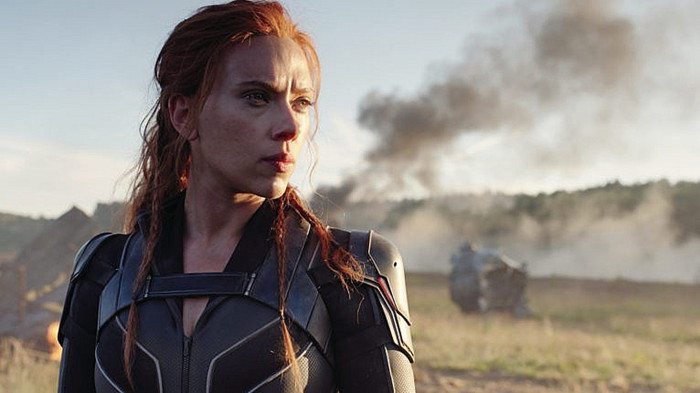 5. How to Watch Disney Plus?
The Disney Plus app is available to download on a range of devices, including:
iOS
Apple TV
Google Chromecast
Android, Android TV
PlayStation 4
Roku
Xbox One
Amazon Fire TV devices
LG Smart TV
Samsung Smart TV
6. How to Download Disney+ Videos for Offline Watching?
Like others streaming services, Disney+ also provides a download function on its app. Once the video is downloaded, you can watch it at any time with no data network and WiFi required. To download content on Disney Plus, you need to find the download icon of the title. All downloads are saved in a folder in the menu at the bottom of the application. The following is a specific download tutorial.
1. Install the Disney Plus app for iPhone or Android.
2. Open the app and sign in to your Disney Plus account. If you don't have an account, please register first.
3. Select the video you want to watch offline. By default, the app lets you download via Wi-Fi.
4. Tap the download icon to the right of the Play and Add to Watchlist buttons.
5. Once the video has successfully downloaded, tap the Play button to begin streaming your video offline.
6. Click the Download icon on the bottom of the screen. From there, you can check all the content you downloaded. It is worth mentioning that Disney will not limit the number of downloads.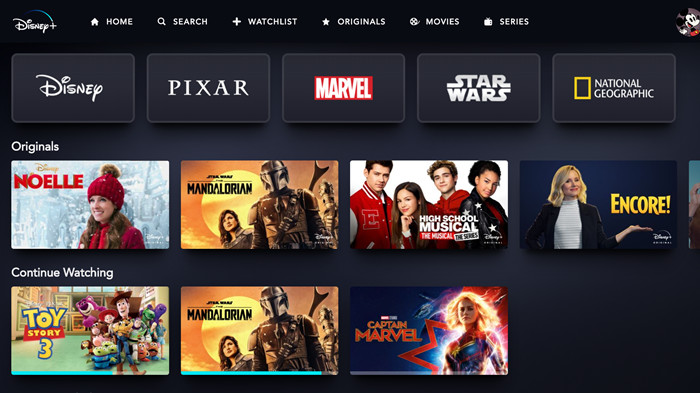 7. What are the Fuctions of Disney Plus?
Disney Plus is capable of streaming 4k Ultra HD content in Dolby Vision, HDR10, and Dolby Atomos immersive audio. Unlike Netflix, you can stream 4k titles at no extra cost. For sure, it requires to use a 4K compatible streaming media device and screen to watch 4k movies and shows (such as Roku Streaming Stick+, Roku Ultra and Amazon Fire TV Cube). A fast internet connection is also needed.
Disney+ offers the ability to stream on four devices concurrently and unlimited downloads for offline viewing. Plus it grants subscribers the ability to create up to seven separate profiles under the same account. You can choose characters from Disney, Pixar, Marvel or Star Wars as avatars, and there are more than 200 characters to choose from.
As mentioned above, Disney Plus supports downloading videos for offline viewing. Subscribers can download to up to 10 mobile or tablet devices, and there is no limit to the number of downloads of titles. The number of titles stored on the device at one time depends on how much storage space is available on the device.
The program also launched some features that are conducive to viewing by disabled subscribers, such as closed captioning, descriptive audio, and navigation assistance. (In the past July, the American Commission for the Blind awarded Disney Plus an Achievement Award for its humane features.)
And Disney+ has a group viewing function, which allows you to synchronize any video you have on Disney Plus with other accounts through the app so that even if you are not with your friends and family, you can watch the show at the same time with them.
In a word, Disney Plus is undoubtedly one of the most competitive streaming services. Its massive content resources are unparalleled, and the level of originality is also at the forefront of the world. The only downside of Disney Plus is that it only allows you to download content on a mobile device via its app. And you can only watch downloaded videos on the Disney+ app, which means that you won't be able to watch Disney+ content offline if you don't have the Disney+ app installed on your mobile device. To solve this tricky problem, you can turn to SameMovie DisneyPlus Video Downloader.
It's the best video downloading tool to help you download DisneyPlus content without any limits. With SameMovie DisneyPlus Video Downloader, you can store unlimited Disney+ movies, TV shows, and documentaries without the app installed. And when you successfully download the video with SameMovie, you can transfer the downloaded video to any device for offline viewing, even if the device is not supported by the Disney+ app. If you are bothered by Disney+ download restrictions, then SameMovie DisneyPlus Video Downloader is worth trying!
Note: SameMovie strictly observes the legal regulations and never circumvents DRM copy protection.
Video Tutorial: Play Disney Plus Video Without the App Installed
Tips You May Want to Know