15 Best Horror Movies on Hulu Right Now
One of the best things about Halloween month is to watch a horror movie from the comfort of your own home. If you haven't found a truly spine-tingling, bone-chilling horror movie to binge on Hulu this month, you've come to the right place. Here are the 15 best horror movies streaming on Hulu during this Halloween season.
There is no doubt that Hulu isn't the only streaming platform with nice horror movies. Luckily for you, we've also put together a comprehensive guide to the 15 best horror movies on Netflix. All of these scary movies make for great viewing options when you turn the lights down, light some candles and cosy up with a warm blanket.
---
Part 1: 15 Best Horror Movies on Hulu
1. Stephen King's It
Introduction: Not to be confused with the recent feature-film duology adapting the classic horror novel, Stephen King's It is a two-part TV movie from 1990, which first tackled King's magnum opus. Tim Curry creates an iconic horror villain in Pennywise the clown, the embodiment of an ancient evil entity in the town of Derry, Maine. That entity faces off against a group of kids in the 1960s, and again nearly 30 years later when the friends are adults. Even within network-TV constraints, this version of It is both nightmarish and emotionally satisfying.
2. Child's Play
Introduction: After Bandersnatch, Netflix partners with WWE to make another attempt at making an experimental Interactive movie. The basic plot is The New Day trying to get The Undertaker's urn without getting their souls taken. It's spine-chilling. TThis 2019 remake of the 1988 classic stars Aubrey Plaza, and Mark Hamill voices the demonic doll.
3. Bad Hair
Introduction: This satirical horror movie is set in the 1980s, so you already know the shoulder pads are present and accounted for. But that's not the only scary thing on the screen. The film follows a young woman who decides to get a weave in order to be taken more seriously at work. The only problem? Her hair may be from an enchanted tree, and it seems to have a mind of its own. If you want to get into the holiday spirit but you don't actually like getting super scared, this movie might be more your speed than a classic thriller. It's less stabby and more silly.
4. Lights Out
Introduction: Teresa Palmer stars in this 2016 film based on the short of the same name that became a stunning box office hit, making over $140 million on a budget under $5 million. Audiences were drawn to the story of Rebecca Wells, who gets drawn into the story of a sinister force that seems to be killing people when the lights go out. An allegory for depression and mental illness, the film doesn't handle that serious subject matter with the most grace but it has some undeniably powerful set-pieces.
5. Let the Right One In
Introduction: This is one of my favorite vampire movies of all time. It's adapted from a brilliant novel by Swedish novelist John Ajvide Lindqvist. To give away too much would be criminal, so I will just say that it involves a vampire that was turned at an inordinately young age, and a bullied boy who desperately needs a friend. The story is simultaneously terrifying and touching, placing in its two young leads the difficult task of being both monstrous and heart-wrenchingly innocent. It's a work of art.
6. Children of the Corn
Introduction: This creepy-kid classic follows a 20-something couple on a cross-country move who get hung up in a tiny midwestern town that is suspiciously devoid of adults. John Franklin gives an all-time horror performance as the child preacher and cult leader Isaac Chroner, whipping his young peers into a murderous frenzy in the name of He Who Walks Behind the Rows. If you're feeling something aggressively '80s, join Linda Hamilton for this road trip gone wrong.
7. The Cabin in the Woods
Introduction: The cabin in the woods is one of the best horror movies of all time ever produced. It is a great combination of entertainment and horror put together. The plot is built around a group of young college students who go to a remote forest cabin and fall victim to backwoods zombies one by one.
8. Overlord
Introduction: With lots of combat sequences and action scenes, Overlord follows a plot in the war against an army of undead. The soldiers drop into the enemy's territory to eventually find out there are other dangerous operations going on in the village. These villages are occupied by the Nazis as compared to just a military operation site as it was guessed earlier. Throughout the movie, the leads figure out a threatening experiment that leads to their war with the undead.
9. We are What We are
Introduction: It is a 2013 American horror film where the Parker family follows their ancient custom of ritual fasting, who find their secret existence to be threatened by a downpour which forces the young daughter's Iris and Rose to take up responsibilities of more than just a typical family.
10. Books of Blood
Introduction: A young student also joins them who is gifted with the ability to interact with the spirit world. During the investigation, they find weird writing on the walls and Simon also finds scars covering his whole body. This is one of the best horror movies on Hulu if you love mysterious scary investigations.
11. I trapped the Devil
Introduction: It's also one of the best horror movies on Hulu to stream. The story goes around a man who goes into paranoia after trapping the devil in his house basement but this incident turns dark when he gets a visit from his family for Christmas. This is surely again one of the horror best movies on Hulu you must watch.
12. The Haunting
Introduction: This one is actually a remake of an old classic horror movie of 1963 where a team of paranormal experts is analyzing strange occurrences in a mysterious mansion and fights for their life when the house starts to fight back.
13. In the Earth
Introduction: Here is a twisted tale about a medically debilitated girl that has always depended on her doting mother for all of her needs. But as Chloe (Kiera Allen) approaches adulthood, she begins to feel the need for independence. As she strives for a way to live her life on her own terms, her mother, Diane (Sarah Paulson) is worried sick that she won't be able to make it on her own. Or is it really just worry? Run is a suspenseful horror film, forcing the audience to watch the impaired Chloe do her best to free herself from an unhealthy codependence.
14. Run
Introduction: Following 2004's inadvertently creepy "Polar Express," it was only a matter of time before motion capture animation made its way to the horror genre. "Monster House" became an instant Halloween classic when it debuted in the summer of 2006. The film kicks off when the Walters leave their son D.J. (Mitchel Musso) home alone for Halloween weekend. While spying on Mr. Nebbercracker (Steve Buscemi), a menacing old man who steals children's belongings, D.J.'s best friend Chowder (Sam Lerner) accidentally kicks a basketball onto his lawn. Mr. Nebbercracker starts to chase them away, only to suddenly collapse and be rushed to the hospital. One by one, objects and people start disappearing, leading to the realization that it's not Mr. Nebbercracker who's haunting the neighborhood, but the house itself. With the help of classmate Jenny (Spencer Locke), the boys must solve the mystery of Monster House and destroy it before it destroys them. "Monster House" balances supernatural horror with slapstick comedy, making it a great film to watch with kids – or simply to revisit if you're feeling nostalgic.
15. Edward Scissorhands
Introduction: A dreamlike fable about a shy misfit, Edward Scissorhands is filmmaker Tim Burton's most personal and distinctive work. Johnny Depp plays the title character, who was created by a brilliant scientist (played by Vincent Price in his final role) but left with scissors in place of real hands. Edward makes a home for himself in an idyllic suburb, only to find his peaceful life shattered by jealousy and ignorance. Burton's signature mix of dark imagery with precious beauty is perfect for this tragic, haunting romance.
---
Part 2: How to Download Hulu Movies
Despite streaming these scary movies on the Hulu app being convenient, it would be quite annoying to endure the interruption by internet lag or commercial ads when we watch the climax part of movies. What if you are looking to download the movies and enjoy them later without the internet? Hulu, for now, does not offer this compatibility on the computer, but you can still pick a powerful tool, SameMovie Hulu Video Downloader in achieving the task.
SameMovie Hulu Video Downloader is indeed an excellent option for almost all your expectations in terms of downloading your favourite videos from Hulu. It helps users to download Hulu movies and play them with Dolby 5.1 surround sound and in a wide range of video quality and size. Besides allowing you to download Hulu videos as HD MP4 or MKV files, this software can also help you select and save any available subtitles as you need, even as a separate file, which makes it possible to integrate subtitles into the media player anytime.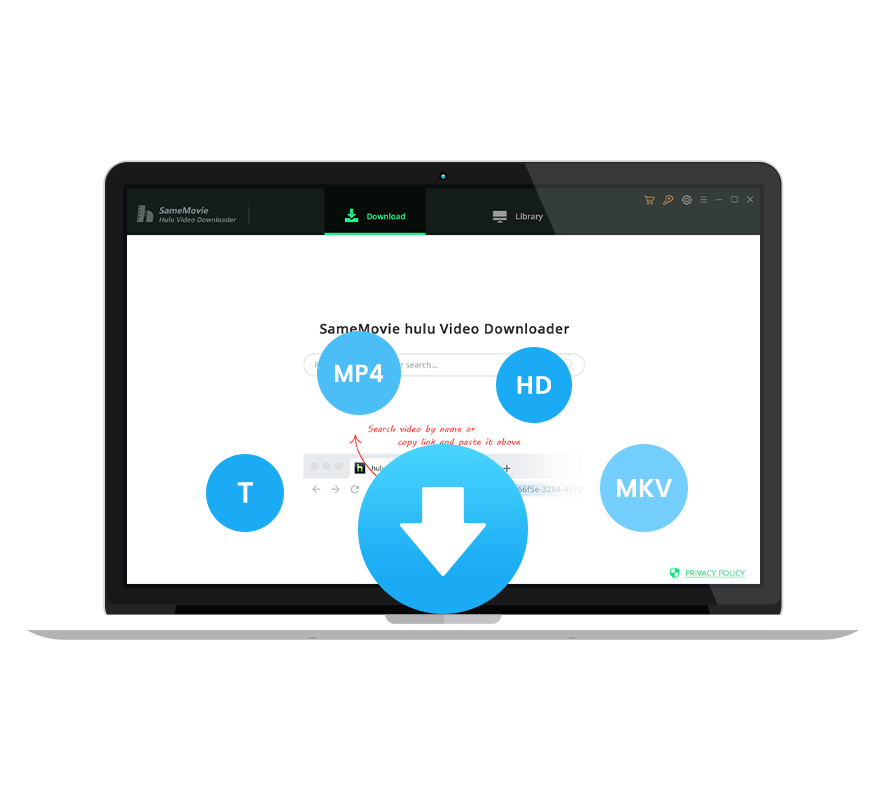 Features of SameMovie Hulu Video Downloader:
Download high definition Hulu videos with no ads

Preserve multi-language subtitles and audios

Save Hulu videos as MP4 or MKV files

Fast download speed and easy to use

Free technical support & software updates
Free Trial
Free Trial
Here are a few steps that help you to download Hulu videos with SameMovie Hulu Video Downloader. Please download the program first before getting started.
STEP 1

Launch Program and Sign in Hulu Account

Please download and run Hulu Video Downloader on your computer, and then enter any word into the search box to open a window, which will prompt you to log into your Hulu account.

Note: SameMovie needs to work with a Hulu account to access Hulu services. But please don't worry, SameMovie will not collect any information other than the videos and your personal and privacy safety can be guaranteed to the greatest extent.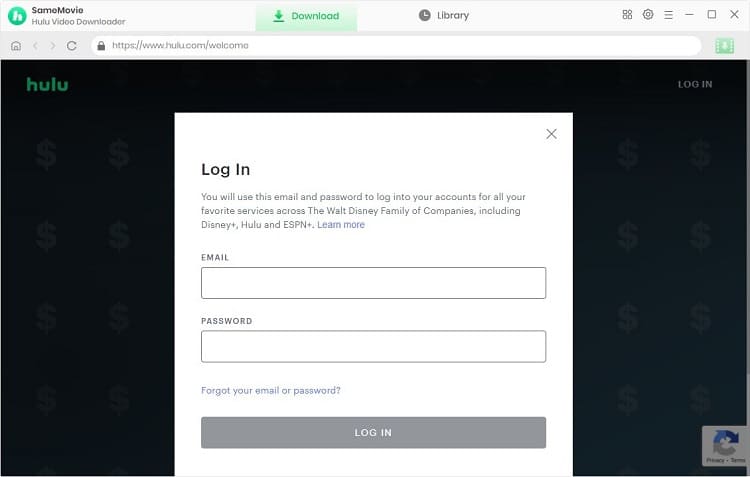 STEP 2

Customize Output Settings

Please click the "Settings" icon on the upper right corner of the program and select the video quality, video format, output path, the language of audio tracks and subtitles, etc.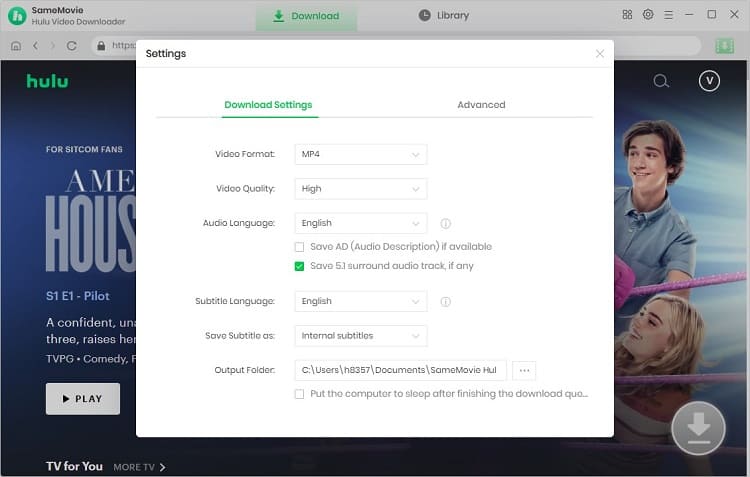 STEP 3

Search Preference Videos

You can enter the name of the Hulu video or just directly copy and paste the URL of a video in the search bar and then press "Enter" to search the videos that you want to download.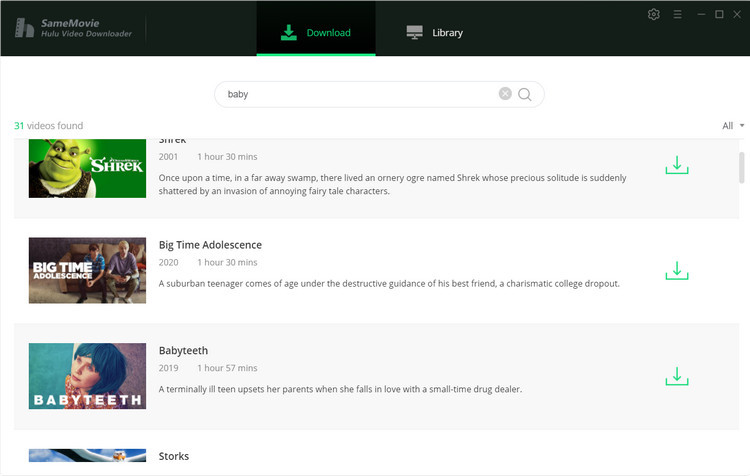 STEP 4

Customize "Advanced Download" Setting

SameMovie offers the advanced download option that allows users to select specific video quality, audio tracks and subtitles. For movies, you will see the "Advanced Download" icon next to the "Download" icon. For TV shows, the "Advanced Download" button is shown on the bottom left of the pop-up window.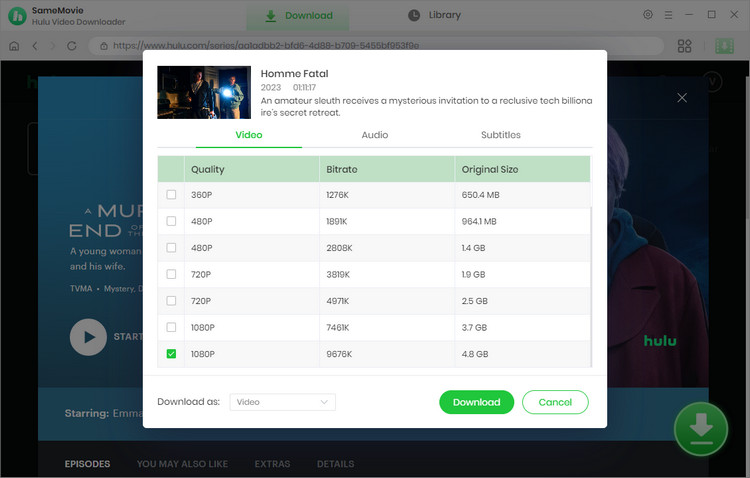 STEP 5

Start to Download Hulu Videos

After finishing the above steps, just click on the "Download" icon to start downloading the videos. Then the program will fastly download Hulu videos to the output folder you've chosen.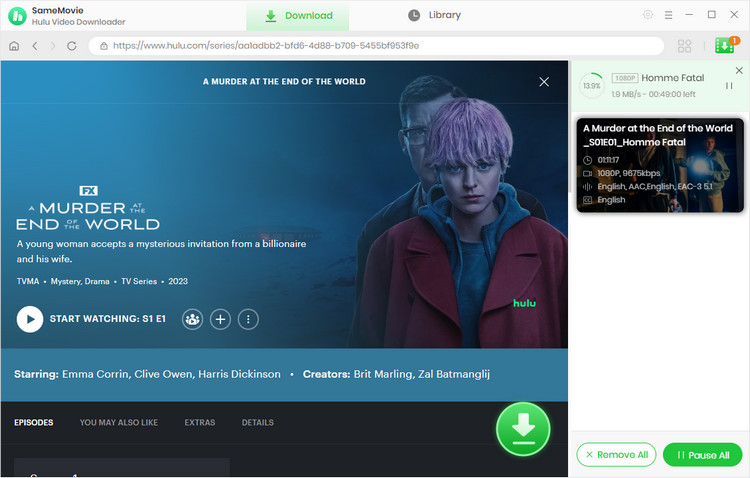 Once the videos are downloaded, please go to the "Library" tab. You will find the Hulu videos have been saved with no ads on your computer. And you can also click the photo thumbnails of the titles to quickly open the video.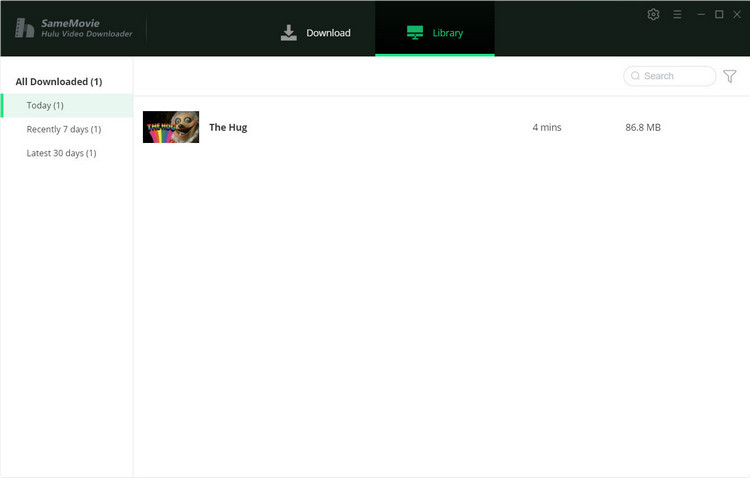 ---
Part 3: Final Words
Concluding the article, these were 15 great options for best horror movies on Hulu right now. We suppose the list in this article should ideally meet most of your expectations. If so, we would consider the time and hard work involved in concluding such a list are worthwhile.
If you are looking for a way to download Hulu videos to skip the lousy and time-consuming ads, just click "Download Now" below and take advantage of SameMovie Hulu Video Downloader. It will give you a similar thrill of the live streaming experience!
---
Tips You May Want to Know