15 Best Horror Movies on Netflix Right Now
Halloween is nearly here, and it's the perfect time to scare yourself. If you are looking for some of the best horror movies on Netflix, then you're at the right place.
Down below are handpicked 15 best horror movies on Netflix that you can stream for Halloween. From childhood classics like Ghost to cult favorites like Fear Street, we guarantee you'll find your favorites here.
---
15 Best Horror Movies on Netflix to stream
1. Fear Street Trilogy (2021)
Introduction: R.L. Stine, the guy who wrote the Goosebumps books, set his sights on a slightly older crowd with his Fear Street novel series, which are now the foundation for one of Netflix's biggest film experiments yet. The three teen-slasher horror films, which all tell the origin story of a cursed town, were each released over three consecutive Fridays in July 2021. Each film is set in a different year (1994, 1978, and 1666), culminating in a flashback to witch trials in the 1600s, and feature carryover cast members and plenty of gory deaths. Let's just say that after watching this you'll be extra careful around a bread slicer. -Tim Surette
Watch Fear Street Trilogy on Netflix
2. Escape the Undertaker (2021)
Introduction: After Bandersnatch, Netflix partners with WWE to make another attempt at making an experimental Interactive movie. The basic plot is The New Day trying to get The Undertaker's urn without getting their souls taken.
Watch Escape the Undertaker on Netflix
3. Things Heard and Seen (2021)
Introduction: For a good ol' haunted house movie, Things Heard and Seen follows a young mom as she moves from the city to the country with her family. She starts to see and experience strange things — but is it just the loneliness, or is it the past residents of the house revealing themselves to her?
Watch Things Heard and Seen on Netflix
4. Nightbooks(2021)
Introduction: A new release for the 2021 Spooky Season, "Nightbooks" is a solid Halloween movie for a younger crowd. Based on the novel of the same name by J.A. White, the story opens with a young boy named Alex (Winslow Fegley) who decides to run away from home, only to be lured into a magical apartment owned by a witch (Krysten Ritter). Now stuck inside, Alex is forced to write a new scary story each day, and tell that scary story to the witch each night. He struggles to be creative while also trying to figure out a way out of this trap. This one's got a fun, spooky vibe while also not being too scary for youngsters.
Watch Nightbooks on Netflix
5. There's Someone Inside Your House (2021)
Introduction: If you're looking for a good old-fashioned teenaged slasher, the Netflix original "There's Someone Inside Your House" is worth checking out. Released in 2021, the story follows a young transfer student (played by Sydney Park) at a high school with a shady past who gets nervous when fellow students with dark secrets are getting picked off (and outed) one by one. Shades of "Scream" layer this teen horror flick, which is directed with gusto by Patrick Bice, the filmmaker behind the "Creep" movies.
Watch There's Someone Inside Your House on Netflix
6. A Classic Horror Story (2021)
Introduction: A Classic Horror Story is a movie done in the same vein as the parody Scary Movie. It's playing with classic horror movie tropes—but unlike the satirical Scary Movie, this Italian film is actually terrifying. Five travelers roam through the Italian countryside happily, until they make the grave mistake of walking into the woods (never do that, people). They're sidetracked by a cult and its strange rituals.
Watch A Classic Horror Story on Netflix
7. Hubie Halloween (2021)
Introduction: This Halloween comedy is worth it for the cast's combined star power alone. Led by Adam Sandler, who plays main character Hubie, the story revolves around the town of Salem on Halloween night, when the festivities call for Hubie's expertise. You can find characters played by the late Cameron Boyce, his "Jesse" costars Peyton List and Karan Brar and fellow Disney stars China Anne McClain and Bradley Steven Perry. Fellow comedians Ben Stiller, Rob Schneider, Kevin James, Tim Meadows and Kenan Thompson add layers of laughs to the film, while the ensemble also includes Paris Berelc, Julie Bowen, Jackie Sandler, June Squibb and Maya Rudolph.
Watch Hubie Halloween on Netflix
8. In the Tall Grass (2019)
Introduction: Stephen King is undoubtedly the king of horror, both in book and on screen, but this film adaptation might be one of his best. When two siblings hear pleas for help from a small boy lost in a field of tall grass, they enter the green abyss only to realize they can't find a way out. This isn't a situation that a compass or Google maps can solve; aside from the fact that there isn't a WiFi connection, something supernatural lurks in the grass, creating an endless infinity loop and time disconnect that can't be escaped.
Watch In the Tall Grass on Netflix
9. Winchester (2018)
Introduction: There's nothing more Halloween-y than a haunted house, and the Winchester mansion is the ultimate. This film is loosely based on the true story of Sarah Winchester, heiress to her family's firearm fortune, who spent her life building a never-ending maze of stairways and secret rooms to keep the ghosts of the people killed by Winchester guns at bay.
Watch Winchester on Netflix
10. Crimson Peak (2015)
Introduction: Oscar-winning filmmaker Guillermo del Toro's 2015 film "Crimson Peak" isn't exactly a horror film, but it's certainly spooky. This Gothic romance takes place at the turn of the 20th century and stars Mia Wasikowska as a budding author who marries a kind stranger (Tom Hiddleston), only to be whisked away to his rundown mansion where he lives with his cold sister (Jessica Chastain). Once she arrives, Wasikowska's character discovers the house is full of secrets – and ghosts. This is a story about love, longing and the everlasting effects of trauma, but in terms of Halloween vibes, it's positively packed with gorgeous costumes and Gothic hallmarks. And blood. Lots of blood.
Watch Crimson Peak on Netflix
11. The Conjuring (2013)
Introduction: If you're in the mood to be truly scared, "The Conjuring" (2013) is a great place to start. The first film in the Conjuring Universe franchise tells the story of a Rhode Island family whose farmhouse is haunted by a dark supernatural presence. Patrick Wilson and Vera Farmiga play Ed and Lorraine Warren, real-life paranormal investigators who come to the Perron family's aid. Demonic possessions, cursed artifacts and jump scares abound as the Warrens investigate what the trailer calls "a case so disturbing, they've kept it locked away until now." The fact that "The Conjuring" is (purportedly) based on a true story kicks the fear factor up an extra notch.
Watch The Conjuring on Netflix
12. Paranorman (2012)
Introduction: For fans of Tim Burton's work, "ParaNorman" falls into that same vein of festive yet spooky stop motion. Norman seems like any other young kid living day to day, until viewers realize his overactive imagination gets him weird looks. Then the audience sees what is really going on — Norman can see the ghosts of dead people and animals. It all starts when he talks to his grandma while the two of them watch a zombie movie in the living room one night. Norman's family bursts his bubble because they can't see grandma's ghost, so they think he's crazy. But Norman's gift helps him face an army of zombies that threaten Blithe Hollow, a very witch-themed New England town.
Watch Paranorman on Netflix
13. Sinister (2012)
Introduction: True-crime writer Ellison Oswald (Ethan Hawke) is in a slump; he hasn't had a best seller in more than 10 years and is becoming increasingly desperate for a hit. So, when he discovers the existence of a snuff film showing the deaths of a family, he vows to solve the mystery. He moves his own family into the victims' home and gets to work. However, when old film footage and other clues hint at the presence of a supernatural force, Ellison learns that living in the house may be fatal.
Watch Sinister on Netflix
14. Monster House (2006)
Introduction: Following 2004's inadvertently creepy "Polar Express," it was only a matter of time before motion capture animation made its way to the horror genre. "Monster House" became an instant Halloween classic when it debuted in the summer of 2006. The film kicks off when the Walters leave their son D.J. (Mitchel Musso) home alone for Halloween weekend. While spying on Mr. Nebbercracker (Steve Buscemi), a menacing old man who steals children's belongings, D.J.'s best friend Chowder (Sam Lerner) accidentally kicks a basketball onto his lawn. Mr. Nebbercracker starts to chase them away, only to suddenly collapse and be rushed to the hospital. One by one, objects and people start disappearing, leading to the realization that it's not Mr. Nebbercracker who's haunting the neighborhood, but the house itself. With the help of classmate Jenny (Spencer Locke), the boys must solve the mystery of Monster House and destroy it before it destroys them. "Monster House" balances supernatural horror with slapstick comedy, making it a great film to watch with kids – or simply to revisit if you're feeling nostalgic.
Watch Monster House on Netflix
15. Ghost (1990)
Introduction: Sam and Molly are a very happy couple and deeply in love. Walking back to their new apartment after a night out at the theater, they encounter a thief in a dark alley, and Sam is murdered. He finds himself trapped as a ghost and realizes that his death was no accident. He must warn Molly about the danger that she is in. But as a ghost he can not be seen or heard by the living, and so he tries to communicate with Molly through Oda Mae Brown, a psychic who didn't even realize that her powers are real.
Watch Ghost on Netflix
---
An Easy Way to Download Netflix Movies
If you live in an area where the network conditions are not too good and your video keeps on buffering, then you might want to download the movies to play on your preferred device and favorite media player. However, even Netflix allows users to download Netflix videos to view offline, there's a limit set in place which is the download function is limited to iOS, Android and Windows 10 official apps. This leads to inconvenience if you want to play Netflix video offline on other devices.
To resolve this situation, SameMovie launched a powerful video downloader that empowers users to fastly download any movies, TV shows from Netflix effortlessly as MP4 or MKV format files and to enjoy the videos on their favorite media player or devices. Besides, this smart tool gives users a number of options and features. Not only can you select the original video quality from Low Quality (240p) up to High Resolution (1080p), but also choose the type and language of available subtitles or audio tracks as you need.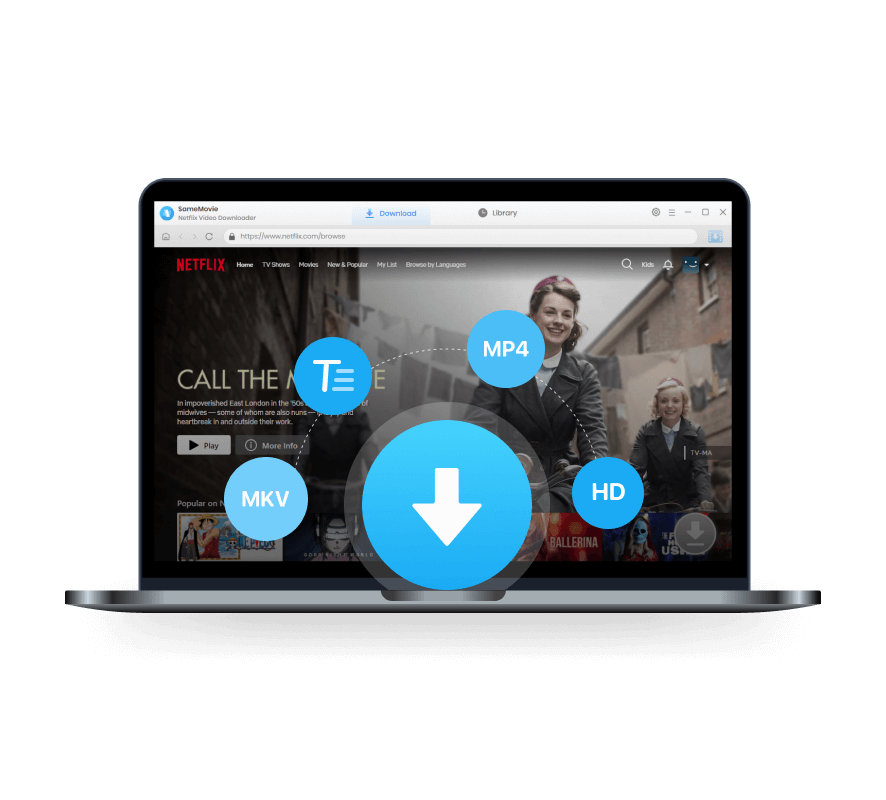 Features of SameMovie Netflix Video Downloader:
Download unlimited Netflix videos in MP4/MKV format

Preserve multi-language audios and subtitles

Smart searching function and fast download speed

Support downloading the HD quality video

Free technical support & software updates
Free Trial
Free Trial
Next, you will learn about a step-by-step tutorial on how to download Netflix videos with the help of SameMovie Netflix Video Downloader. Before that, please make sure you have downloaded and installed the program on your computer.
STEP 1

Sign in Netflix Account

Please launch SameMovie Netflix Video Downloader on Windows PC, enter a random video name in the search box and press the "Enter" key. After that, please sign in to your Netflix account on the pop-up login windows.

Note: SameMovie needs to work with a Netflix account to access Netflix services. But please don't worry, SameMovie will not collect any information other than the videos and your personal and privacy safety can be guaranteed to the greatest extent.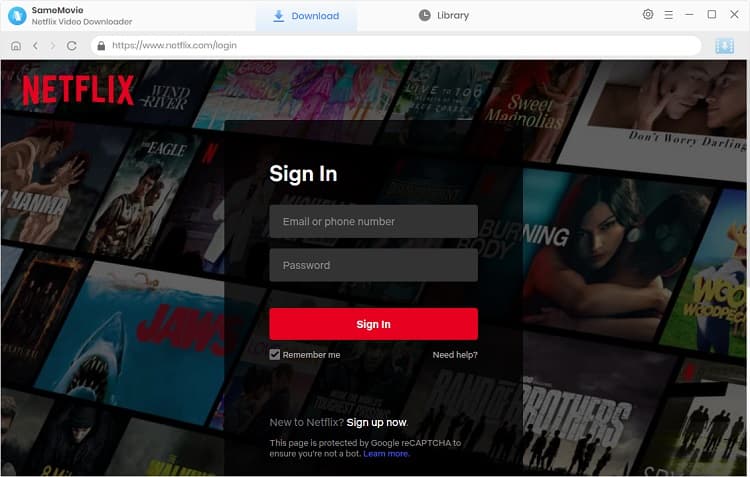 STEP 2

Customize Output Settings

Click the "Setting" icon on the upper right corner to customize the Output Quality (High, Medium, Low) and Output Path. You are suggested to choose "High" to get the 1080P / 720P video quality.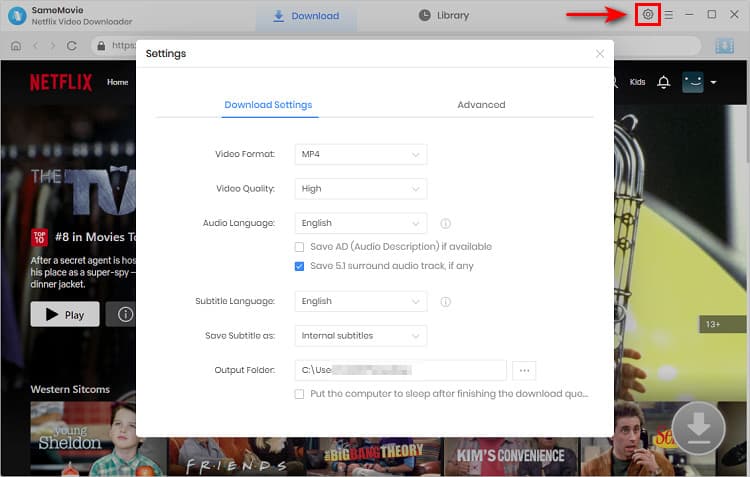 STEP 3

Add Videos into Download Queue

You can enter the name of movies & TV shows or just directly copy and paste the URL of a video into Netflix Video Downloader and then press "Enter" to find the videos that you want to download.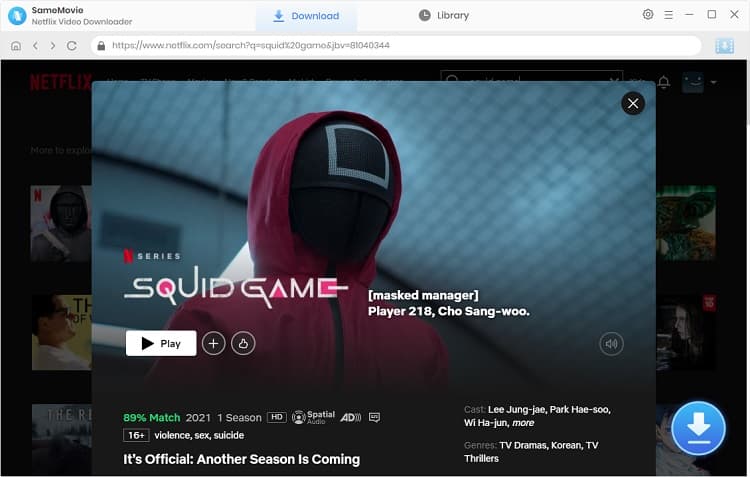 STEP 4

Customize "Advanced Download" Setting

Netflix Video Downloader empowers you to select your preferred output resolution, size, audio tracks and subtitles on the "Advanced Download" window before downloading. If you try to download a movie, the "Advanced Setting" icon next to the "Download" arrow icon, please click the "Advanced Setting" icon to open the window. When you are downloading a TV show, directly click the "Download" arrow icon, following that a window will pop up allowing you to select titles as well as seasons, and to choose audio track and subtitles.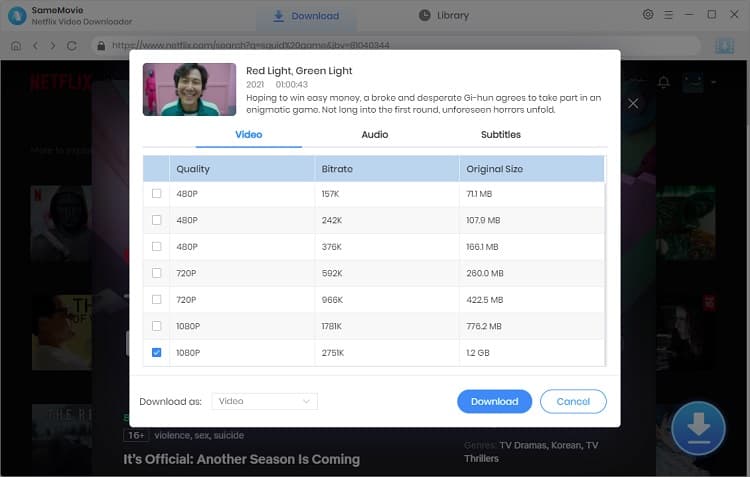 STEP 5

Start Downloading Netflix Video to Computer

After finishing the above steps, please simply click on the "Download" icon to start downloading the videos. Then the program will start downloading Netflix videos to the output folder you've chosen in the previous step.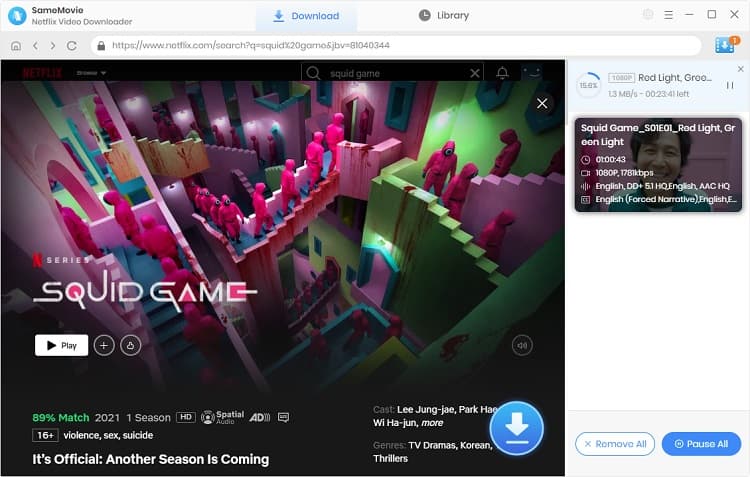 Once the download process is done, you can click on the "Library" tab and find the downloaded videos saved on your computer. Now, all of your selected Netflix content has been downloaded as you customized, and you can play and transfer them to any of your devices for watching without limits.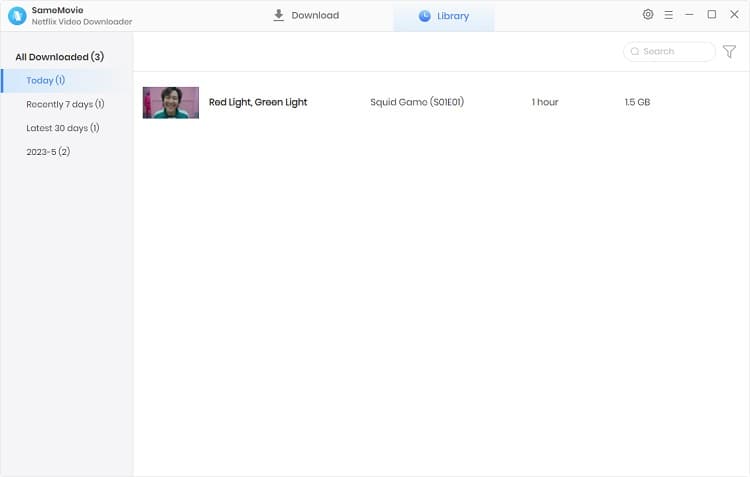 ---
Final Words
So without further ado, let's dive into the list of 15 best horror movies on Netflix to start streaming. If you want to save any Netflix video to watch later on your preferred video media player, just click the "Download Now" below to have a try SameMovie Netflix Video Downloader. It will download Netflix videos at a fast speed and give you a truly brilliant viewing experience.
---
Tips You May Want to Know