How to Download the Best TV Shows on HBO Max
Since HBO Max launched in May 2020, it is always lauded for its large selection of TV shows and movies. If you're looking for something to watch on HBO Max, here are our recommendations for some of the best TV shows you can stream on HBO Max right now. Our selection features a mix of recent releases and classics across genres, ensuring that all viewing needs are accounted for.
If you're a TV shows lover but cannot make time to binge-watch the streaming shows on HBO Max, then you must think about downloading TV shows on HBO Max for watching offline. Then, you would know a great tool- SameMovie HBOMax Video Downloader to achieve it in this article.
---
Part 1: 15 Best TV Shows on HBO Max 1. Titans Season 3
Introduction: Titans' follows young heroes from across the DC Universe as they come of age and find belonging in a gritty take on the classic Teen Titans franchise. Dick Grayson and Rachel Roth, a special young girl possessed by a strange darkness, get embroiled in a conspiracy that could bring Hell on Earth. Joining them along the way are the hot-headed Starfire and lovable Beast Boy. Together they become a surrogate family and team of heroes.
2. Game of Thrones
Introduction: Once known as the most pirated TV series globally, Game of Thrones is a hit that can't be ignored in a list of the best HBO Max shows. Based on George R. R. Martin's A Song of Ice and Fire novels, the complex medieval fantasy story is full of action, suspense, and complex characters that will intrigue viewers. If that's not enough, common topics also include murder, treason, dragons, ice zombies, and more.
3. Raised by Wolves
Introduction: You will know by the end of the first episode of Raised by Wolves whether this show is for you, but I can promise you one thing: you are not prepared for how insanely weird this sci-fi series gets. The Ridley Scott-directed pilot burns through a season's worth of story in one hour, as the show follows a pair of androids who land on a far-away planet with packed embryos and the stated mission of restarting humanity anew. A civil war between religious fanatics and atheists on Earth has turned our home planet into a barren wasteland, but surprises abound once these travellers arrive on this here planet and they learn that it may hold more secrets than they expected. This thing is wildly cinematic and unendingly compelling, and has already been renewed for a second season. Fans of hard sci-fi and Scott's Alien films will find much to love. – Adam Chitwood
4. The Sex Lives of College Girls
Introduction: "The Sex Lives of College Girls" follows four college roommates as they arrive at New England's prestigious Essex College. A bundle of contradictions and hormones, the girls are equal parts lovable and infuriating as they navigate their new, free lives on campus.
"Sex Lives" focuses on four freshman college roommates at the fictional Essex College, a prestigious, private school in Vermont. Bela (Amrit Kaur), an Indian-American, tells her parents she's studying molecular biology but comes to college with two crystal clear ambitions: to become the next Seth Meyers and have tons of sex. Kimberly (Pauline Chalamet) is an extremely sheltered young woman on financial aid who's saving herself for her boyfriend from back home in small-town Arizona. ("We're from the whitest town in the world," she explains. "Dad won't even eat tacos.") Leighton (Renée Rapp) is aggressively white in different ways: She graduated from Manhattan private school Spence and is still closeted as she pursues upward social mobility and sorority rush. ("I don't want being gay to be my identity," she tells a dating app hookup. "I like my identity.") And Whitney (Alyah Chanelle) is a Black senator's daughter and star soccer player who's having an affair with her married, adult coach.
5. Doom Patrol
Introduction: A re-imagining of one of DC's most beloved group of outcast Super Heroes: Robotman, Negative Man, Elasti-Girl and Crazy Jane, led by modern-day mad scientist Dr. Niles Caulder (The Chief). The Doom Patrol's members each suffered horrible accidents that gave them superhuman abilities - but also left them scarred and disfigured. Traumatized and downtrodden, the team found purpose through The Chief, who brought them together to investigate the weirdest phenomena in existence - and to protect Earth from what they find. Part support group, part Super Hero team, the Doom Patrol is a band of super-powered freaks who fight for a world that wants nothing to do with them. Picking up after the events of Titans, Doom Patrol will find these reluctant heroes in a place they never expected to be, called to action by none other than Cyborg, who comes to them with a mission hard to refuse, but with a warning that is hard to ignore: their lives will never, ever be the same.
6. The Flight Attendant
Introduction: The Flight Attendant is not just the best HBO Max original series thus far, it's one of the best TV shows of 2020. It's a mystery-thriller whodunit with a strong character hook, as Kaley Cuoco plays a flight attendant who has a one-night-stand with one of her passengers, only to wake up the next morning to find his throat slit. Instead of calling for help, she cleans it up and gets the heck out of there, setting into motion a series of events that will put her and her friends and family in serious danger. But while the mystery is wildly compelling, the show also offers a strong character arc for Cuoco as she plays an alcoholic in denial. She spirals and battles her own demons while also fighting for her life and trying to unravel this mystery, and Cuoco is absolutely incredible in the role. This 7-episode limited series is a very easy – and satisfying! –binge-watch. – Adam Chitwood
7. Love Life
Introduction: Tracks Darby Carter (Anna Kendrick) across her 20s as she navigates work and romance in New York City, often with the insecurities of youth bubbling to the surface. We first meet Darby in 2012 as an NYU grad living with three roommates: impulsive best friend Sara, Sara's easy-going boyfriend Jim, and brutally honest friend Mallory. Following Darby over the next several years, love life shows how each of Darby's encounters brings her closer to finding her "person", even if she doesn't know it yet.
8. It's a Sin
Introduction: It's a Sin explores the HIV/AIDS illness as it unfurls in gay clubs and communities around the city—though it never villainizes or blames them for the crisis. Despite being a series almost entirely about the HIV/AIDS epidemic, It's a Sin does not dawdle in statistics or tragedy. By energizing the show with a spirited cast, a storyline about growing up, and plenty of scenes that follow the joy of their kinship, Davies has created a tale that can entertain while still spotlighting an imperative point of discussion. —Fletcher Peters
9. Friends
Introduction: Probably the biggest coup by HBO Max, Friends was still one of Netflix's most popular series before it made the jump to the newer streaming service. Friends' gender politics and gay panic jokes make it feel like a product of its time, but if you can stomach that, it's remarkably consistent and very funny even when you're deep into its 10-season run.
This sitcom about 20-somethings (and then 30-somethings) making it in New York felt so fresh when it first arrived, and there's a reason it's endured as long as it has. It's the kind of show you'll always enjoy having on in the background. "We were on a break!", and so on.
10. The Other Two
Introduction: Comedy Central's (now HBO Max's) charming, hilarious series The Other Two follows adult siblings Brooke (Heléne York) and Cary (Drew Tarver) as they try to figure out their own lives in the wake of their 13-year-old brother Chase (Case Walker) becoming an overnight YouTube sensation. Though Brooke and Cary support Chase (who is not, yet, an obnoxious internet star) they want to have careers that stand on their own. But they can't help but get pulled into Chase's orbit, making sure others aren't taking advantage of Chase for their own gain while acknowledging they might be doing that very thing. The Other Two is darkly funny and real, as Brooke and Cary struggle to find success and exist on the outskirts of the vapid world that wants to make Chase an industry unto himself. It is one of the funniest series on TV as well as one of the smartest. Creators Chris Kelly and Sarah Schneider understand the modern fame machine better than most, exposing truths in some of its most hilariously audacious scenes. It also has coined one of the best and most useful catchphrase: "In this climate??"
11. Made for Love
Introduction: A romantic dramedy flavored with a touch of Black Mirror, this unconventional series focuses on the very dysfunctional relationship between Hazel (Cristin Milioti) and Byron (Billy Magnussen). Perhaps their odds as a married couple would have been better before Byron imprisoned her in a technologically advanced prison from which Hazel has to make a daring escape, but now that Hazel's back in the real world, she's forced to confront how her past has brought her to this place — specifically, hiding out with her father (Ray Romano) in a small desert town, never fully free from Byron's surveillance. Made for Love might take place in a slightly reality from our own, but its examination of love and relationships makes it painfully relatable to us all.
12. Succession
Introduction: Who needs special effects, elaborate fight scenes, or grisly murder to make a compelling show? For the third season in a row, Jesse Armstong has proven that all you really need are unlovable characters and some of the cruelest jokes you've ever heard. Succession Season 3 finally started its inevitable battle, pitting Kendall (Jermey Strong) against daddy Logan (Brian Cox) for control of Waystar Royco. More than any other installment, Season 3 has been a showcase of this series' spectacular worldbuilding. After watching them fight, insult, and backstab each other for 20 episodes, we know Kendall, Shiv (Sarah Snook), Roman (Kieran Culkin), and even Conner (Alan Ruck) as well as we know our own families. We know what they want and, more importantly, what lines they'll cross to get it. Now it's time to watch chaos reign, and what gloriously addicting chaos it is.
13. Silicon Valley
Introduction: This hilarious comedy series follows a group of socially awkward, smart-as-hell coding geniuses as they work to build their own company and avoid selling to one of the eager business tycoons sniffing around for their next trillion-dollar investment. It's a satire and a parody, but thanks to co-creator Mike Judge's real-life experience in the industry, the show is more than a little spot-on. I mean, even the O.G. Silicon Valley hot-shot Bill Gates says the HBO series "gets the tech industry just right."
14. Westworld
Introduction: Inspired by Michael Crichton's 1973 movie of the same title, Westworld is as thought-provoking as it is beautiful. Judging by the cast alone, it should be no surprise that the show has won nine Emmys and counting. That said, Westworld is also extremely violent, so stay away if you have an aversion to gore.
15. I May Destroy You
Introduction: Carried masterfully by the debut performance of Michaela Cole (who is also the show's creator), I May Destroy You takes a deep and abstract dive into the trauma of sexual assault and how it can change the very fabric of one's being. Though the premise is dark and may be a trigger for some, it brings some smart and dark comedy along with it while showing what it can mean to be forced to reassess your entire life.
---
Part 2: How to Download the Best TV Shows on HBO Max
Just like other streaming services, HBO Max does provide you options to download videos on its official apps. However, the download features of HBO Max come with plenty of restrictions. You can only enjoy the downloaded video on the device you download it to and the downloaded video comes with an expiry date after which it will be deleted. You can't even transfer it to other device like smart TV and share the most exciting moment of the videos with your friends or families.
Where you want to take yourself off the restrictions, where SameMovie HBOMax Video Downloader comes to your rescue. SameMovie is a trustworthy option for you all the time in terms of downloading content from streaming services. It allows you to download any content from HBO Max at high speeds and with unexceptionable video and audio quality. It also enables you to share the content with other devices or your close one. Furthermore, you can watch your favourites anytime anywhere you want since the downloaded content is saved on your local drive forever and can be moved to another device as you wish.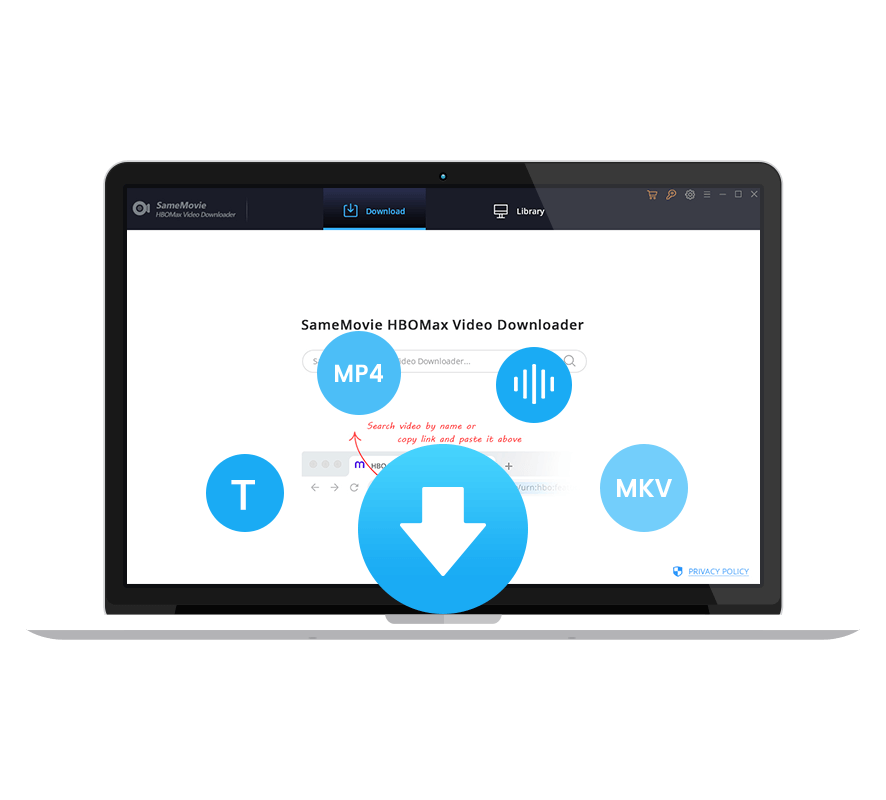 SameMovie HBOMax Video Downloader:
Download high definition HBO Max videos with no ads

Preserve multi-language subtitles and audios

Save HBO Max videos as MP4 or MKV files

Fast download speed and easy to use

Free technical support & software updates
Free Trial
Free Trial
Here are the tutorials that show you how to download HBOMax TV shows step by step. Please download SameMovie HBOMax Video Downloader on your computer before we go further.
STEP 1

Download and Launch HBOMax Video Downloader

Launch HBOMax Video Downloader on your PC, and input a random video name in the search box. After that, the program will prompt you to log in HBO Max account.

Note: SameMovie needs to work with an HBO Max account to access HBO Max services. But please don't worry, SameMovie will not collect any information other than the videos and your personal and privacy safety can be guaranteed to the greatest extent.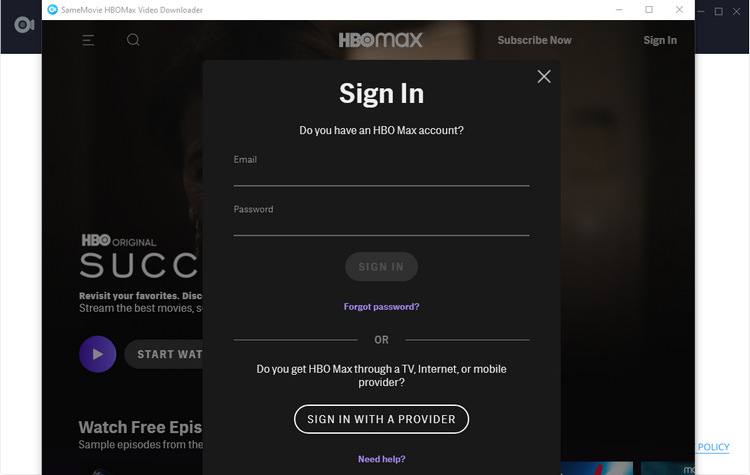 STEP 2

Select Output Settings

Please click the "Settings" button on the upper right corner of the program and select the video quality (from High to Low), video format( MP4 or MKV), and the language of audio tracks and subtitles, etc. Plus, you can also customize the Output Folder here.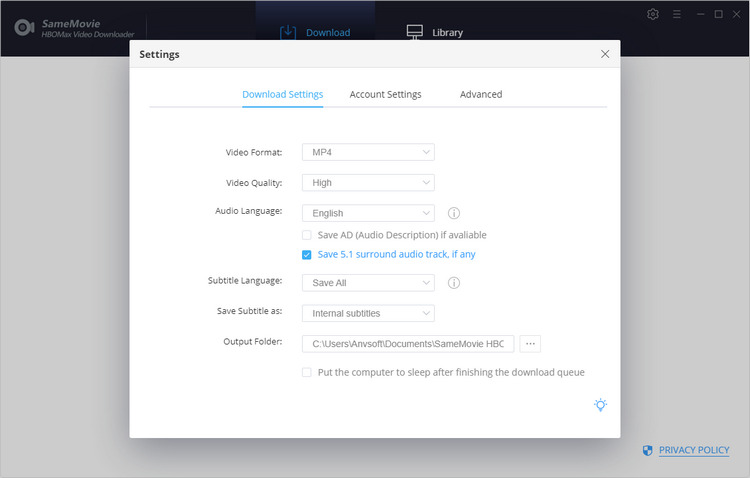 STEP 3

Search Preference TV Shows

Please enter the name of the HBO Max TV shows or just directly copy and paste the link of the shows in the search bar and then press "Enter" on your keyboard to search the videos that you want to download. The program will list all of the related videos soon.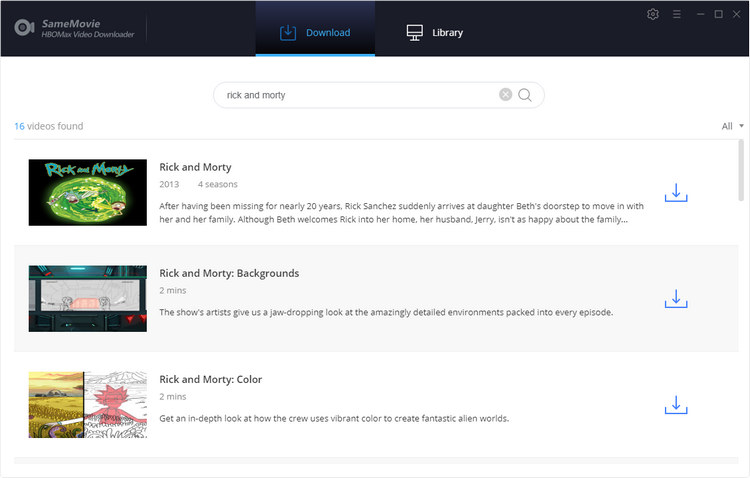 STEP 4

Customize "Advanced Download" Setting

SameMovie supports downloading various video data from HBO Max. For HBO Max movies, you can click the

button to open the "Advanced Download" window to select specific video quality, audio tracks, and subtitles.
For HBO Max TV shows, you can click the

button to choose the output quality, audios, and subtitles languages.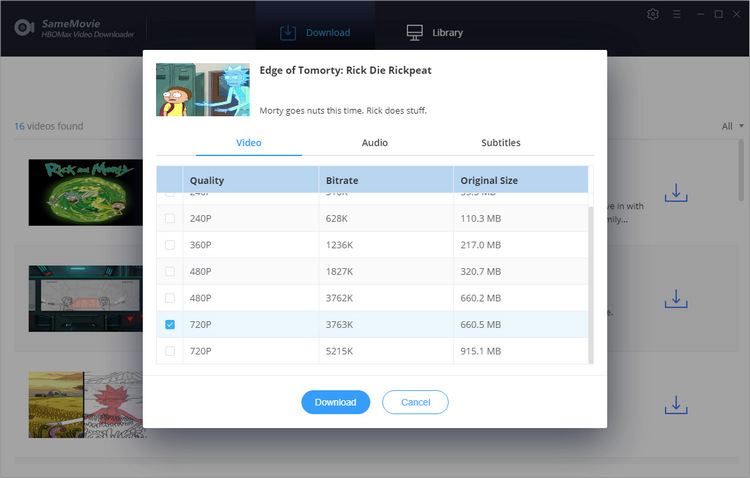 STEP 5

Start to Download HBO Max Shows

After finishing the above steps, you can click on

button to start downloading HBO Max videos to MP4/MKV files.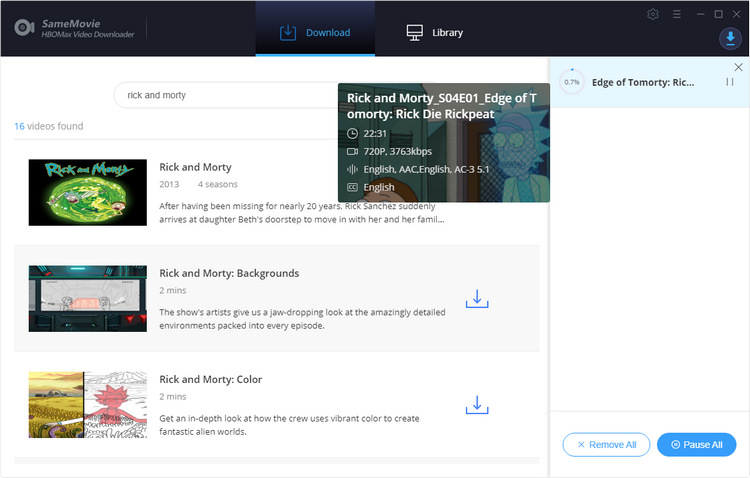 After the HBO Max videos are well downloaded, please go to the "Library" tab. You will find the HBO Max movies have been saved with no ads. And you can click the thumbnails of the titles to open the video files with ease. Now, you can feel free to transfer HBO Max videos to other devices for enjoying offline.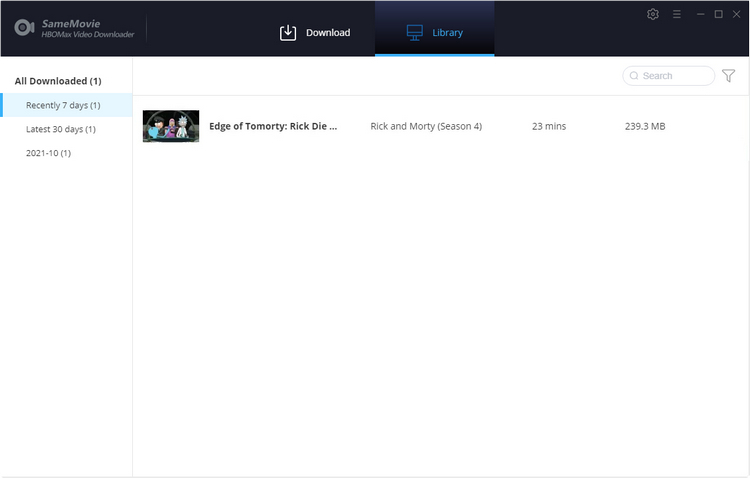 ---
Part 3: Final Words
In this article, we first look at the 15 best TV shows streaming on HBO Max, such as some flagship original series like Love Life and The Flight Attendant. After that, we dive straight into the subject of how to download the best TV shows from HBO Max for offline watching with the help of SameMovie HBOMax Video Downloader.
Downloading HBO Max videos comes with many advantages. You can watch your best-loved TV shows and movies easily without the need for the internet and the tolerance to any limitations of HBO Max. Just click "Download Now" below and equid your computer with SameMovie HBO Max Video Downloader. Your HBO Max watching experience will level up greatly!
Video Tutorial: How to Download HBO Max Video with SameMovie
---
Tips You May Want to Know