How to Watch Netflix Movies and TV Shows on PS4
Like Google Chromecast or Amazon Ruku, Sony's PlayStation 4 is also capable of playing videos and music files from USB drive, or another device on the same network. What's more, the PS4 system can also be used as the streaming video hub and featured as native support for video streaming services like Netflix, Amazon Prime Video, YouTube and more. In the following part, we put three simple approaches on how to download and watch Netflix movies and TV shows on Sony's PlayStation 4.
To add Netflix to the non-smart TV, you can use Amazon Fire TV Stick, Apple TV, Roku, Chromecast, HDMI cable, Blu-ray player, or gaming console to connect the old TV to the internet and stream Netflix videos.
---
Part 1: How to Watch Netflix Videos on PS4 via Pre-installed App
From the Netflix app on PS4, you can browse rows of movies and TV shows or select "Search" to find more videos. You can also stream movies and TV shows up to 1080p resolution and select "audio and substiles" to turn on subtitles or 5.1 Surround Sound if they are offered by movies or TV shows. And here is the simple guide to get started.
Step 1: On the home screen of PS4 controller, go to "PlayStation Store" from the home screen and select "Apps" -> "Movies/TV" -> "Netflix".
Step 2: After selecting Netflix from the given list of applications, then information page for Netflix will be displayed. Select "Download" to start downloading Netflix app.
Step 3: When the download is complete, continue to navigate to the "TV & Video" from the home screen and look for Netflix application.
Step 4: Select the Netflix application to startup, then select Sign in on the Netflix home screen and enter your Netflix email address and password.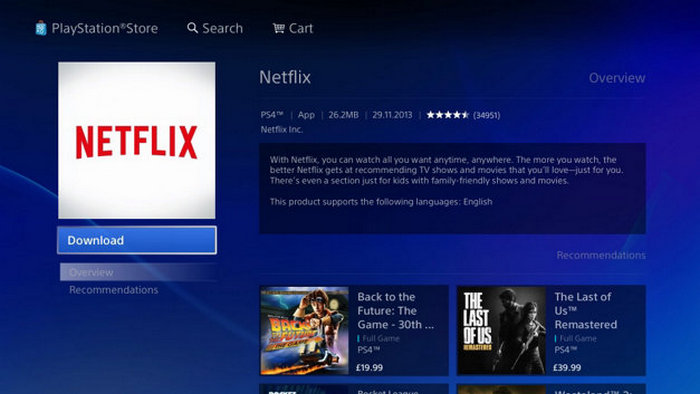 If your old TV has no HDMI port, you can only watch the Netflix video with standard definition image quality.
---
Part 2: How to Cast Netflix from Phone to PS4
The Netflix app on mobile device has the ability to sync to select TVs and streaming media players, so you can use the Netflix app on your iPad, iPhone, iPod touch, or Android device as a second Screen for your Sony PlayStation Netflix app. Here is the guide on how to cast Netflix videos from iPhone or Android to your PS4 by using Netflix's second screen feature.
Step 1: Connect your mobile phone or tablet to the same Wi-Fi network as your PS4.
Step 2: Launch Netflix app on both your mobile device and PS4.
Step 3: Sign in to the same Netflix account on both your TV and your mobile phone or tablet.
Step 4: Start a movie or TV show on your Netflix app for mobile device, in the lower right corner of the screen, select the "Cast" icon and select PlayStation 4 from the device list.
That's it. It is very easy to cast Netflix video from mobile phone or tablet to PS4. Once connected, you can play Netflix video, fast forward, rewind, or pause the video, as well as select the audio and subtitles.
---
Part 3: Download Netflix Video and Play it on PS4 Using USB Drive
Netflix is one of the most popular streaming video services rivals Amazon Prime Video and Disney Plus. It allows you to watch movies, TV shows and documentaries on multiple devices, and download content to watch it offline on the go. However, Netflix's download feature has some limitations. So if you are the heavy users who like to download a bunch of movies and TV shows, you may wonder another workable way to download Netflix movies and TV shows without quantitative and time limitations.
Here we gonna recommend you an approach to download and save Netflix videos to computer forever, so you can use USB drive, DLNA or Plex Server to watch the downloaded Netflix movies or TV shows on PS4 without any limitation.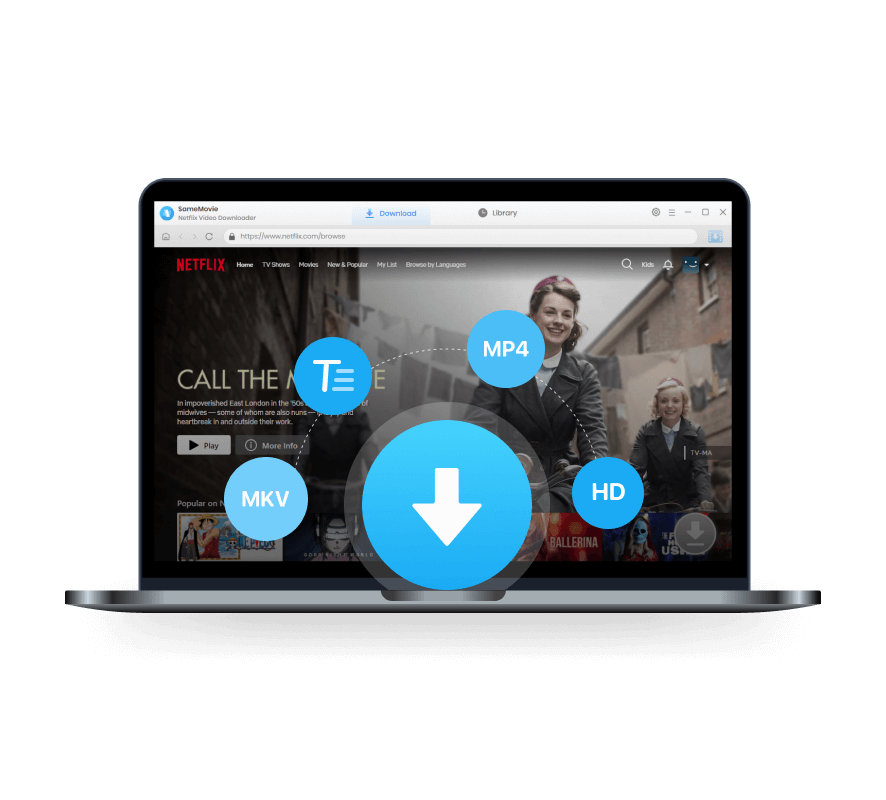 SameMovie Netflix Video Downloader:
Download Netflix movies, TV shows documentaries, and more

Download Netflix videos with HD (1080p and 720p) quality kept

Support downloading subtitles and audio tracks

Support fast multi-stream and multi-video downloading
Free Trial
Free Trial
STEP 1

Download and Install a Netflix Video Downloader

This Netflix Video Downloader enables you to grab videos from Netflix and download videos to MP4 with HD (1080p or 720p) video quality, audio tracks and subtitles kept.

After the installation is complete, startup the Netflix downloader on your computer.
STEP 2

Search Videos

On the search bar, enter the name of a movie or TV shows, or paste the video link from Netflix web player, then press the "Enter" to load the related videos.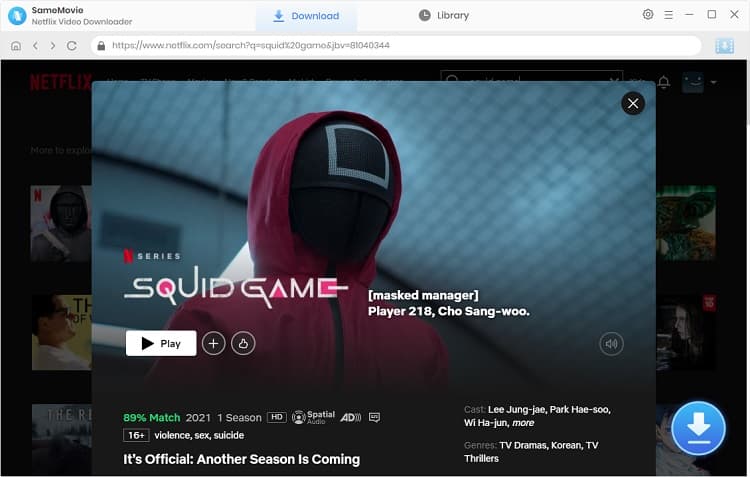 STEP 3

Customize the Output Settings

Click on the "Setting" icon in the upper right corner to open the setting-window where you can customize the video format to MP4 or MKV, and output quality to High, Medium, and low. Lower quality requires less storage space and takes less time to download, Higher quality, up to 1080p or 720p requires more storage space and takes more time to download.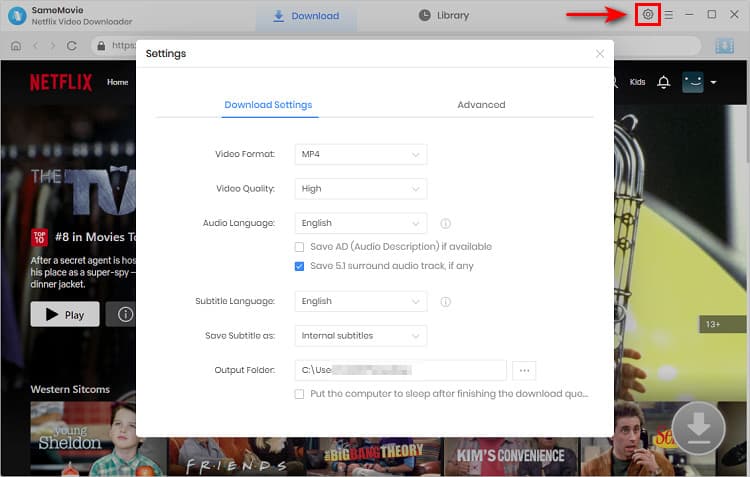 STEP 4

Choose Advanced Download Settings

For Netflix TV shows, you can click the

button to choose the download quality (1080p, 720p, and 480p), audios, and subtitles languages.
For Netflix movies, you can click the

button to open the "Advanced Download" window to select the download quality, audio tracks, and subtitles.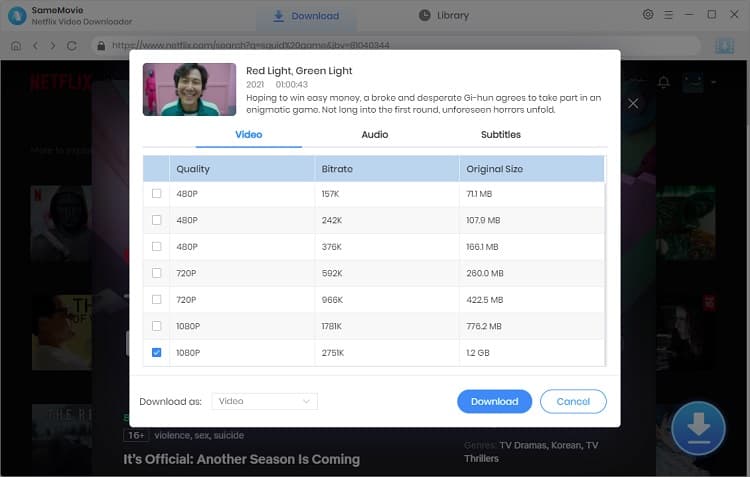 STEP 5

Start to Download Netflix Videos to MP4

Click on the "Download" icon and the program starts to download Netflix videos. After the download is complete, click on "Library" tab in the top to find the download Netflix videos (.mp4 suffix to the name) from the local directory.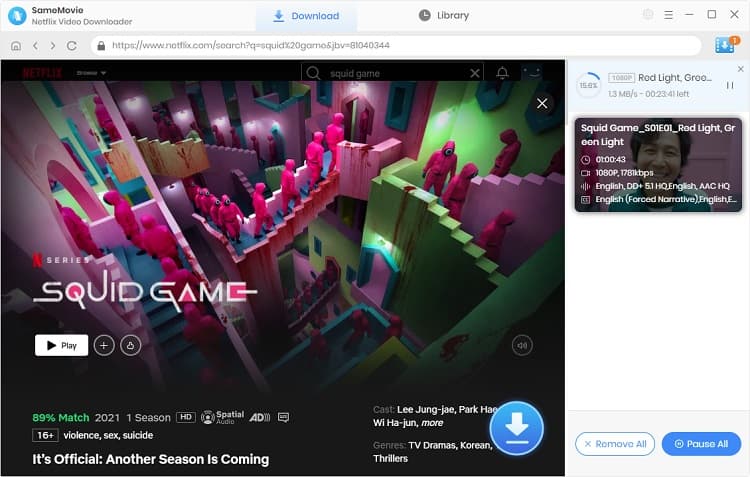 STEP 6

Play Local Netflix Videos on PS4 Using USB Drive, DLNA or Plex Server

Now you have the files and it is time to get them to your PS4.

1. Plug a USB drive into your computer. As PS4 can not read NTFS, the drive needs to be formatted with the exFAT or FAT32 file system. Just right-click on the drive on your computer and select "Format". This will erase all files on the drive, so back up files before starting.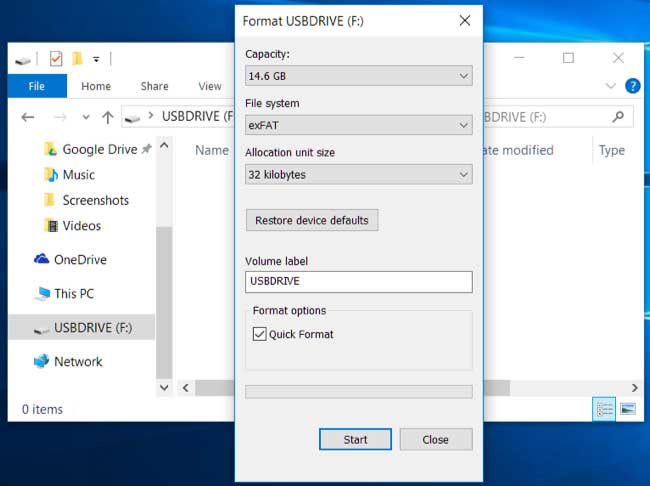 2. Create "Movies" or "TV shows" folder on the drive and transfer the downloaded Netflix videos to the right folder.
3. Open the "Media Player" app on your PS4 to play the Netflix videos, and you will be prompted to select your USB drive, browse the videos you want to play.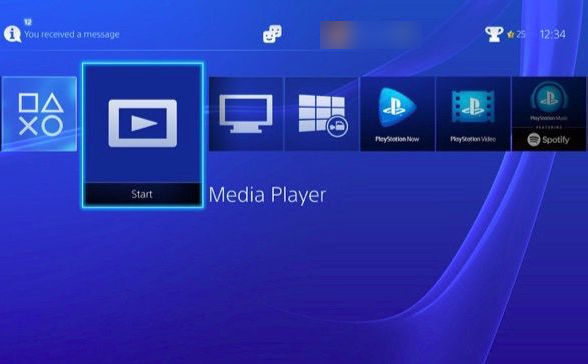 If you do not want to use USB drive to access the downloaded Netflix videos on your PS4, you can use DLNA or Plex Server to stream videos on PS4.
That's all. We listed the three workable ways to watch Netflix videos on your PS4. If you have good network condition and do not worry the Netflix plan, you can download Netflix app on PS4 and stream videos directly. If you are PS4 owner, but has the Netflix Basic Plan which lets you stream TV shows and movies from Netflix on only one device, well, you can stream Netflix from you iPhone, iPad, Android phones or tablet to your PS4 by using Netflix 2nd screen feature.
---
Conclusion
If you want to go around the Netflix download limitations: a user can download a maximum of 100 titles of a single device at any time, or the downloaded titles have a set expiration time, you can try the method we mentions on part 3 to get the unlimited enjoy for Netflix videos on PS4 and other more portable device.
The Netflix and PlayStation make a mega entertainment combo for gaming, videos, music and photos. Let's enjoy good movies or TV shows of Netflix after some intense gaming.
---