How to Download the Best Movies on HBO Max
HBO finally entered the streaming game with its platform, HBO Max, which contains the full catalogue of HBO's original works and all the best stuff from Warner Brothers. To find the flick that's right for you, just check out our updated list of the best movies on HBO Max right now. These top movies on HBO Max will deliver you high-quality streaming entertainment.
If you prefer to download the best movies on HBO Max to enjoy them offline without any disturbance, then read the article below carefully, you will find two ways to realize your little wish.
---
Part 1: 10 Best Movies on HBO Max 1. Zack Snyder's Justice League
Introduction: This one's for the droves of Zack Snyder fans who campaigned for the director to get a second shot at finishing Justice League, after he was forced to leave before completion due to personal tragedy. In stepped Joss Whedon, but the 2017 theatrical version was a critical and box office failure. Now, a four-hour Snyder director's cut is ready on HBO Max, with a ton of new scenes, a couple of new villains and the spectacular epilogue. If you're on board with Snyder's slo-mo style, it's worth checking out his remarkably different original vision.
2. The Witches
Introduction: In late 1967, a young orphaned boy (Jahzir Kadeem Bruno) goes to live with his loving Grandma (Octavia Spencer) in the rural Alabama town of Demopolis. The boy and his grandmother come across some deceptively glamorous but thoroughly diabolical witches, so Grandma wisely whisks our young hero away to an opulent seaside resort.
Regrettably, they arrive at precisely the same time that the world's Grand High Witch (Anne Hathaway) has gathered her fellow cronies from around the globe—undercover—to carry out her nefarious plans.
3. Peacemaker
Introduction: Following the events of The Suicide Squad, Peacemaker (John Cena), a born killer with expertise on every weapon known to humankind, is supposed to be in prison. He's approached by Clemson Murn (Chukwudi Iwuji), who offers him an opportunity to avoid jail time by working under him and forming a team to kill bad people.
Tasked with killing Senator Royland Goff, Peacemaker teams up with Harcourt (Jennifer Holland), their field handler; John Economos (Steve Agee), head of tech and tactics; Vigilante (Freddie Stroma) and Adebayo (Danielle Brooks), their new recruit. The unlikely group of killers do their best to come together as a team, as Peacemaker also tries to come to terms with his estranged father.
4. Dune
Introduction: Paul Atreides (Timothée Chalamet) is a brilliant and gifted young man whose dreams predict the future. After having vivid dreams of a girl fallen in battle, Paul Atreides (Timothée Chalamet) asks Duncan Idaho (Jason Momoa) if he can tag along on his mission to the dangerous planet Arrakis.
Accompanied by his father Leto (Oscar Isaac) and his closest advisors, Paul runs into the girl (Zendaya) from his dreams. Outsiders return to Arrakis to exterminate everyone on the planet, forcing Paul and his people to unite with the natives of the planet in order to survive the oncoming doom.
As malevolent forces explode into conflict over the planet's exclusive supply of the most precious resource in existence — a commodity capable of unlocking humanity's greatest potential — only those who can conquer their fear will survive.
5. No Sudden Move
Introduction: Filmmaker Steven Soderbergh's second original film for HBO Max, No Sudden Move, is one of the Ocean's Eleven and Traffic director's best. The 1950s-set crime thriller revolves around a heist gone wrong, and specifically follows two criminals played by Don Cheadle and Benicio Del Toro who must not only deal with the fallout, but try to figure out why they were hired and by whom before they get killed. This is a twist-filled heist thriller that also has much to say about the world we live in, as the 50s Detroit setting offers a backdrop in which Black neighborhoods were being dismantled in the name of "progress." It's thrilling, funny, surprising, and smart, and it builds to a finale you do not see coming.
6. Godzilla vs. Kong
Introduction: Legends collide in Godzilla vs. Kong as these mythic adversaries meet in a spectacular battle for the ages, with the fate of the world hanging in the balance. Kong and his protectors undertake a perilous journey to find his true home, and with them is Jia, a young orphaned girl with whom he has formed a unique and powerful bond. But they unexpectedly find themselves in the path of an enraged Godzilla, cutting a swath of destruction across the globe. The epic clash between the two titans—instigated by unseen forces—is only the beginning of the mystery that lies deep within the core of the Earth.
7. Ocean's Eleven
Introduction: There's an effortlessly cool vibe to Steven Soderbergh's Ocean's Eleven that makes it one of the most rewatchable movies ever made, and while it's certainly a heist film, it's also hilarious. Soderbergh's cast plays the whole thing with a dryness that suits the suave con men looking to rob a Las Vegas casino, and clearly George Clooney, Brad Pitt, Matt Damon, etc. are having a blast. So yes, while Ocean's Eleven is a thrilling heist movie all its own, it's also sneakily one of the best comedies of the 21st century.
8. Reminiscence
Introduction: Nick Bannister (Hugh Jackman) is a scientist and private investigator of the mind who discovers a method of reliving past memories. While living on a sunken stretch of the Miami coast, he uses the technology to navigate the dark and alluring world of the past, searching for his long-lost love along the way. But Nick's life changes forever when he takes on new client Mae (Rebecca Ferguson). While helping her access lost memories, Mae disappears out of the blue. What was once a game of lost and found becomes a dangerous obsession and Nick eventually uncovers a violent conspiracy that has him reconsidering how far people will go for the ones they love.
9. Locked Down
Introduction: Linda (Anne Hathaway) and Paxton (Chiwetel Ejiofor) realize that their relationship is not working and decide to go their separate ways. However, life has other plans for them. When a pandemic strikes, they are stuck at home in a mandatory lockdown. Co-habitation is proving to be a challenge, and soon the two have to band together to carry out a heist during quarantine.
10. Wonder Woman
Introduction: It's a shame that Wonder Woman 1984 didn't quite live up to the greatness of its predecessor. Thankfully, Wonder Woman is endlessly rewatchable. And hopefully, will more closely resemble the inevitable third film in the series.
The best DCEU superhero movie by far, Patty Jenkins crafted a terrific origin story for Diana's first lead outing on the big screen. The story puts the Amazonian (Gal Gadot) into World War I where she goes hunting for Ares, the God of War, to try and bring peace to mankind. However, her journey has her confronting the world in all its beauty and terror while also falling for pilot Steve Trevor (Chris Pine). Wonder Woman embraces the heroism of its female superhero while also challenging her beliefs and forcing her to grow and change. It's a difficult balancing act, especially as it carries the weight of being a feminist icon, but Jenkins pulls it off with style to spare. – Matt Goldberg
---
Part 2: How to Download HBO Max Movies to Watch Offline
Do you want to download your favourite movies on HBO Max so that you can watch them without the internet? Here's a detailed tutorial you need to know for downloading your favourite films and programmes from the HBO Max platform onto your devices.
The straightforward way to download content from HBO Max offline is to do it via the HBO Max official app. You can tap on the "download" icon beside the titles to save it. However, there are inevitable limitations with this approach. For example, you can only have 30 downloads across all profiles and devices. Besides, you can't enjoy the downloads anytime you want since the app will automatically delete your downloads after 48 hours of when you first start watching. Wouldn't it be quite disappointed to accept these limitations?
Luckily, we've managed to successfully find a workaround to prevent you from these sad situations. It's the simplest and easiest way method that can even help save your favourites forever and transfer the downloads to any device like Roku TV. All you need is just to use SameMovie HBOMax Video Downloader. SameMovie is a versatile program tailored for all your needs to download any videos from HBO Max in high-definition with fantastic Dolby sound. What's more, you can also share the downloaded MP4/MKV files across devices without any hassles. It is worth mentioning that you can even preserve multilingual subtitles as a separate file and embed it within the videos anytime.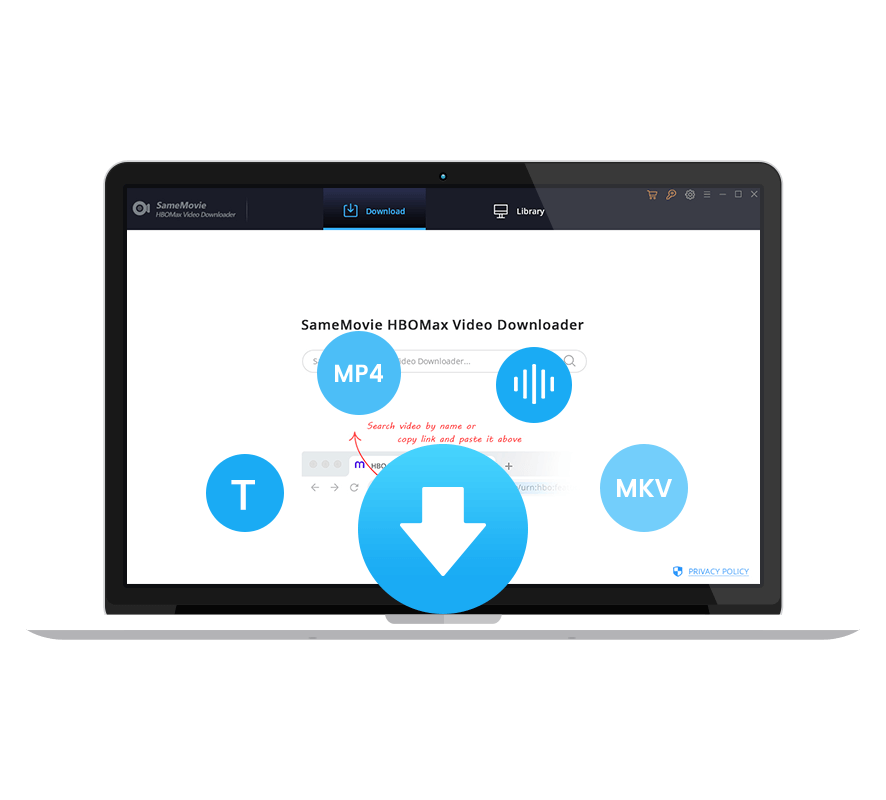 Features of SameMovie HBOMax Video Downloader:
Download high definition HBO Max videos without ads

Preserve multi-language subtitles and audios

Save HBO Max videos as MP4 or MKV files

Fast download speed and easy to use

Free technical support & software updates
Free Trial
Free Trial
To know how you can download a movie from HBO Max to watch offline, let's check the following steps!
STEP 1

Install and Launch HBOMax Video Downloader

Run SameMovie HBOMax Video Downloader on your PC, and input a random word in the search box. After that, the pop-up window will prompt you to log in HBO Max account.

Note: SameMovie needs to work with an HBO Max account to access HBO Max services. But please don't worry, SameMovie will not collect any information other than the videos and your personal and privacy safety can be guaranteed to the greatest extent.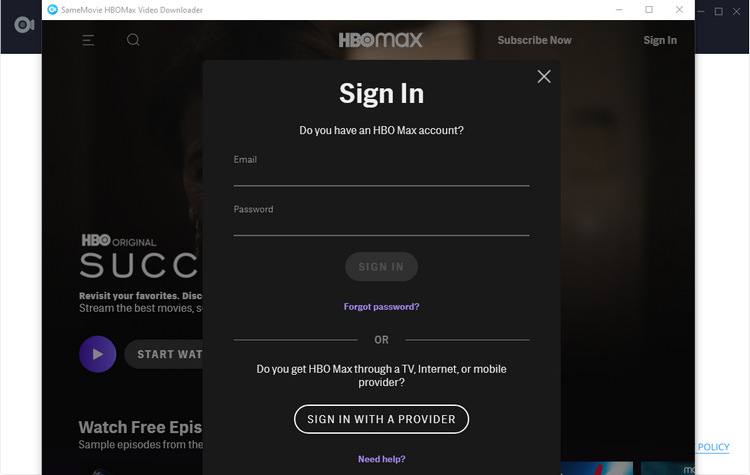 STEP 2

Customize Output Settings

Please tap on the "Settings" button in the upper right corner and choose the video quality, output format, and the language of audio tracks and subtitles, etc. And you can also choose the Output Folder here.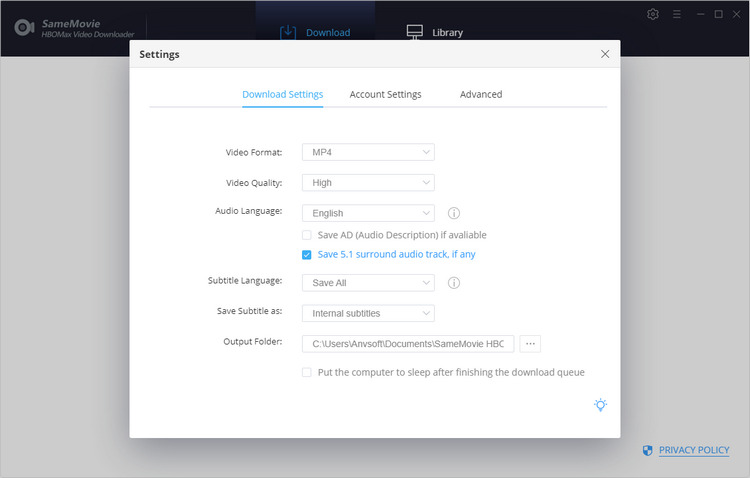 STEP 3

Search the Movie

Please input the name of the films or just paste the link of the films in the search bar and then press "Enter" to search the videos that you want to download. The app will load all of the related results soon.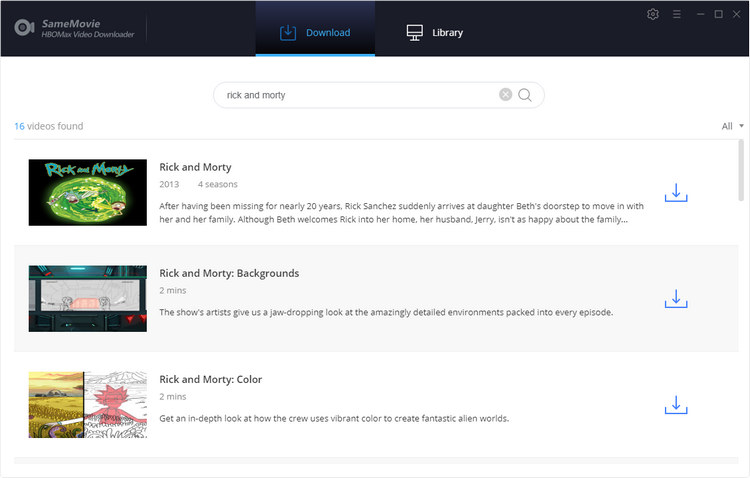 STEP 4

Configure Specific Video Parameters

SameMovie supports saving various meta info of the HBO Max movies. For HBO Max movies, you can click the

button to activate the "Advanced Download" window to choose specific video quality, audio tracks, and subtitles.
For HBO Max TV shows, you can click the

button to choose the output quality, audio tracks, and subtitles languages.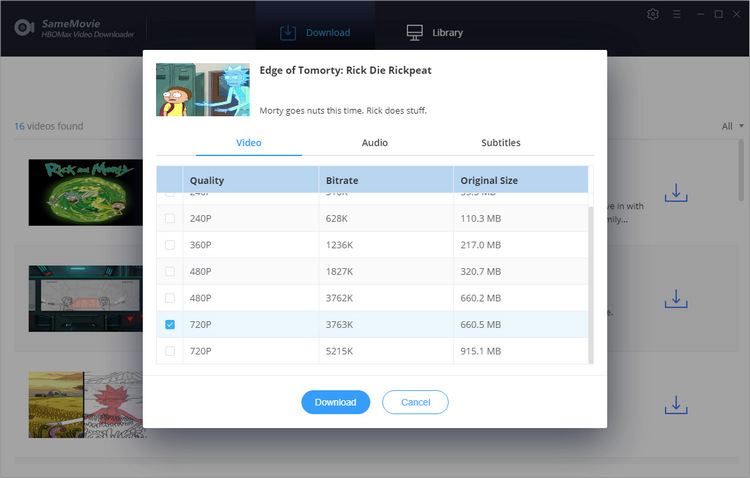 STEP 5

Start to Download HBO Max Movies

Once you have finished the above steps, you can click on

button to start downloading HBO Max movies to MP4 or MKV files. While you wait, you can check the downloading progress and browse other videos you intend to download.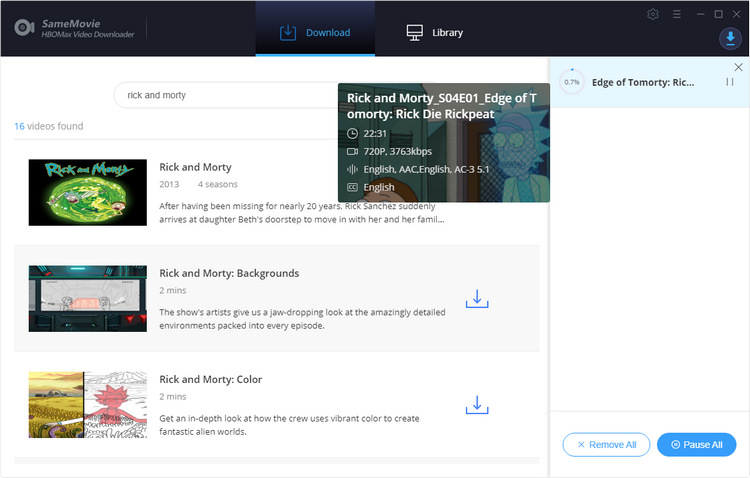 After the program successfully downloaded the HBO Max videos, you can go to the "Library" tab to find the videos for later watch. You can see the above steps are easy-to-follow. Now, the HBO Max movies have been saved with no ads and you are able to transfer the videos to other device and share them with your close one.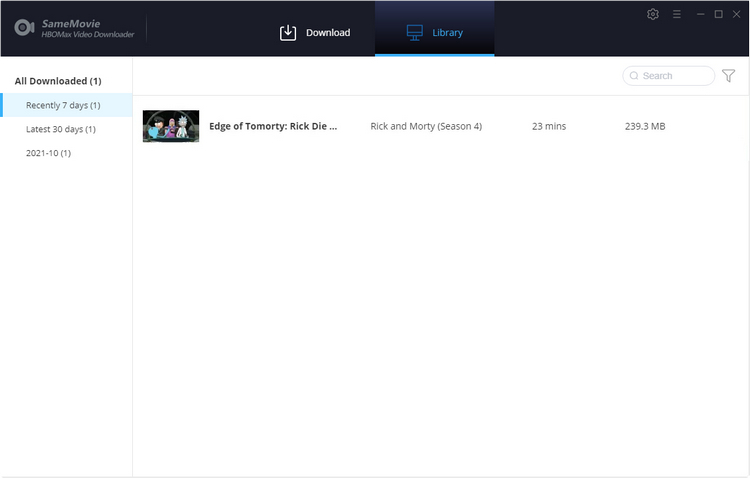 ---
Part 3: Final Words
The shortest answer to how to download HBO Max movies is to equid SameMovie HBOMax Video Downloader. Just click "Download Now" below and start to watch the best HBO Max movies without unnecessary hassle. With its versatile functions and fast performance, SameMovie can ideally meet all your expectations.
Finding downloaders for other streaming media service? Don't miss this opportunity to learn more:
Video Tutorial: How to Download HBO Max Video to Watch Offline
---
Tips You May Want to Know